Hillary Clinton's Aggressive Outreach to Republicans Is Making Progressives Nervous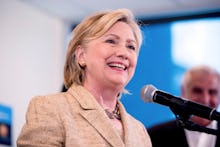 Aiming to capitalize on many prominent Republicans' revulsion for Donald Trump, Hillary Clinton is assiduously seeking high-profile GOP endorsements, with an eye toward dealing Trump a resounding defeat in November.
As that effort begins to bear fruit for Clinton's campaign, it's stirring feelings of unease with many progressives, whose doubts about Clinton's liberal bona fides helped fuel Bernie Sanders' Democratic primary challenge earlier this year.
"There's concern by a lot of folks who are hoping for a progressive reform administration on economic issues that, in an effort to reach out to CEOs and folks like Henry Paulson that she would abandon issues [dear to progressives]," said former Rep. Brad Miller of North Carolina, now a senior fellow at the Roosevelt Institute.
Paulson, a former Goldman Sachs CEO who served as Treasury Secretary under President George W. Bush, endorsed Clinton in June, blasting Trump as a "divisive character."
"There are a lot more millennial votes than Henry Paulson has," Miller said. "There are a lot more Bernie Sanders votes than Henry Paulson has."
The former congressman, a staunch Wall Street critic who endorsed Sanders' financial reform plan during the Democratic primaries, said that while he's encouraged by Clinton's populist tack on issues like expanding Social Security, opposing the Trans-Pacific Partnership and breaking up too-big-to-fail banks, he worries that she's privately reassuring Republicans she'll pursue a more centrist course in office.
"Some see the support she is winning from Republicans, who certainly don't agree with those views, and worry that the private conversations are that they should not be troubled too much by those positions," Miller said.
Clinton has been intimately involved in outreach to top Republicans, personally calling Hewlett Packard CEO Meg Whitman, a major fundraiser for the presidential campaigns of Mitt Romney and Chris Christie, before Whitman endorsed her last week.
Among the holdouts who may receive similar entreaties are former Secretaries of State Henry Kissinger and Condoleezza Rice, whose hawkish track records have made them lightning rods for the left. Politico reported Monday that Kissinger and Rice are part of a group of former GOP foreign policy officials the Clinton campaign hopes to woo to their side.
"What I find worrisome is when you have Clinton reaching out to people like Henry Kissinger and have people saying he's going to be a voice she listens to on foreign policy," said Charles Chamberlain, the executive director of Democracy for America, the Howard Dean-founded group that backed Sanders in the primaries.
"And Condoleezza Rice? She was one of the architects of our torture policy and the failed Iraq War," Chamberlain added.
The Clinton-Kissinger connection has long troubled progressives — including Sanders himself, who called the Nixon-era diplomat "one of the most destructive secretaries of state in modern history" during a Democratic primary debate in February.
While Clinton's past support for foreign policy interventionism has prompted consternation on her left flank, Chamberlain said that Clinton's running mate, Sen. Tim Kaine of Virginia, could temper some of her hawkish instincts. Kaine has been at the forefront of the push for a congressional debate on U.S. military operations against the Islamic State.
"He really rounds out the ticket for Hillary," Chamberlain said.
Though some progressives seized on Kaine's selection as evidence that Clinton may abandon her progressive positions on key economic issues — Kaine had spoken favorably of the TPP, and has called for the rollback of some banking regulations — Chamberlain noted that Clinton has continued to sound populist themes, even amid her outreach to the GOP.
"We haven't seen her change her positions on the economic issues she was fighting for in the primary. In some ways, she's gotten better," he said, citing her move toward Sanders' positions on free public college and health care reform.
For liberals hoping Clinton adheres to such positions, there's a growing emphasis on the importance of progressive appointments to key posts, including Cabinet agencies and the Supreme Court.
"Making personnel appointments to try to appeal to the better angels of the Republican Party is something President Obama has tried and has failed spectacularly," said Jeff Hauser, who directs the Revolving Door Project, which aims to curb corporate and Wall Street influence in executive branch appointments.
Hauser cited the Senate GOP's refusal to hold a vote on Obama's Supreme Court nominee, Judge Merrick Garland, despite Garland's moderate record and past praise from conservatives.
For now, though, Hauser sees no inherent problem in Clinton's entreaties to the GOP.
"Obviously it makes sense in an election to try to appeal to the most voters," he said. Noting that many Republicans have cited concerns about Trump's temperament in rejecting his candidacy, Hauser added, "I don't think there's any reason why temperament-related attacks need to go hand-in-hand" with policy concessions on issues like Wall Street reform.
But Clinton's skeptics say they're on guard.
"Once the administration starts making decisions, there will be close scrutiny from the left," Miller said.