Caeleb Dressel Is the Tattooed 2016 Olympic Swimmer Whose Name You Should Know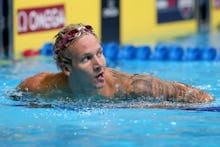 On Sunday night, all eyes were on Michael Phelps, Ryan Held, Nathan Adrian and Caeleb Dressel — the four United States Olympic swimmers who clinched the gold medal in the 4×100 freestyle relay.
While the internet may have loudly wondered about the purple dots on Phelps' body (the result of "cupping" therapy), as the U.S. swimmers take their marks again at Wednesday's 100m freestyle, it'll be almost as hard to ignore Dressel's patriotic tattoos.
"I added the flag recently to my arm," Dressel said to the press following his SEC Championships in February, according to USA Swimming. "I'm proud to be an American. I love my country. The eagle is from my [favorite] bible verse." 
The 19-year-old said the verse's message promises that Dressel will never "grow weary": especially important for an Olympic competitor. 
Dressel currently attends the University of Florida, a choice that was influenced by none other than alumnus and Olympic swimmer Ryan Lochte. According to NBC Sports, Lochte said he became one of the "deciding factors" in Dressel's college decision, especially after telling him he couldn't pass up the opportunity to train with his former coach, Gregg Troy.
"If you want to become the best, you have to go there," Lochte told NBC in January. "Troy will get you to the best."
With one 2016 Rio Olympic gold medal already under his belt, or, rather, around his neck, Dressel isn't doing too shabby — not to mention he's already broken NCAA and American records in March, according to the Washington Post.
"As soon as the whistle blows," Dressel told the Post, "something triggers me."