5 Fast Facts About Nathan Adrian, Olympics 2016 Swimmer, You Should Know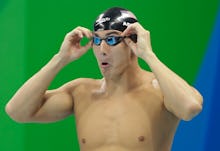 On August 9, Nathan Adrian — the Olympic swimmer from the United States who almost missed his Olympic final after coming in sixteenth in as many slots in his qualifying heat — clinched the top spot in the men's 100m freestyle semifinal heat.
On Wednesday, Adrian will compete in Rio for his second gold medal; his first gold came in London for the same event. Ahead of his historic swim, here are five fast facts to know about the emerging star of the U.S. men's team.
First of all — yes, he's single...
According to a recent profile by People magazine, being in the pool all the time has given Adrian less time to focus on his dating life, but it's not stopping the newly-single swimmer from imagining what his ideal partner might be like.
"There are a lot of things that people don't understand unless they were in the same kind of position you were in," he said. "The levels of empathy have to be high in a partner if you are able to have a relationship." 
...but he doesn't necessarily want to be
The Olympian told the magazine that despite the tribulations of dating-while-famous, he still has fantasies about someday finding true love.
"I've certainly had those dreams of someone sweeping me off my feet," he said. "Maybe I'm supposed to do the sweeping, but either way." 
He is a self-described "avid Game of Thrones fan"
Olympic training probably eats up a lot of Adrian's free time, but luckily he still gets a chance to hang out in Westeros every once in a while.
"It's an automatic each week that I get to hang out with my friends outside of my swimming, training partners. It helps me balance out my life and helps me reset and get ready for the week," he told People.
He's a momma's boy
Adrian might be well on his way to becoming one of the most powerful athletes in the world, but make no mistake: he remembers where he came from.
"The backseat my mom took was really important for me," he said. "All through high school and college, she never took it upon herself to motivate me. She knew that was my coaches' job and knew ultimately that motivation had to come from me internally. Her not putting too much pressure on me to perform or any of that has been nice." 
He loves pizza as much as you do
Adrian says that although he doesn't watch what he eats as much as you might expect of an Olympian, he does try to keep his carbs and sugar intake to a minimum.
"I [don't have] a very specific diet and I don't watch volume, but I watch content," he said. "The kind of food I want is low-fat meats, and I do what I can to not get as much sources of fats from animals. I try to source my fats from plants." 
His guilty pleasure, he adds, is thoroughly average. 
"Deep dish pizza is my go to cheat meal," he said.