Donald Trump's Entire Theory of How He Can Win the 2016 Election Is Crumbling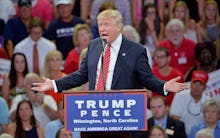 Donald Trump's path to victory in the 2016 election has always been narrow, but it's also been pretty clear.
It starts with holding the 206 electoral votes Republican nominee Mitt Romney won in 2012. Riding a wave of support with white working-class voters, Trump then wrests Ohio and Pennsylvania from the Democrats — bringing him to 244 electoral votes, just 26 shy of the magic 270.
Add the combined 26 electoral votes of two other Rust Belt states, Michigan and Wisconsin, or Florida's 29 votes, and Trump takes the oath of office on the Capitol steps on Jan. 20, 2017, becoming the 45th president of the United States.
Trump, whose tirades against immigration and free trade have won him the fierce loyalty of his blue-collar base, has made no secret of his Rust Belt strategy.
"I will win Michigan because of what's happened. They have sucked all the jobs out of Michigan," Trump said on CNN in May. "And I am constantly talking about Michigan with the cars and what's happening. I think I will win Pennsylvania. I'm sure I'm going to win Pennsylvania."
For a candidate not prone to changing his ways, it was an alluring strategy: secure the White House by hammering home the same message of visceral populism that propelled him to victory in the GOP primaries.
But with less than three months until voters cast their ballots, Trump's strategy is in shambles. His poll numbers are tanking, and his bare-bones ground operation is dwarfed by the Hillary Clinton juggernaut — making it all the more difficult for Trump to regain his footing ahead of the Nov. 8 vote.
Here's a snapshot of the grim reality confronting Trump.
Ohio
Since 1860, no Republican has ever won the White House without winning the Buckeye State — and while Trump is within striking distance, he hasn't led in a public poll there since May.
The RealClearPolitics polling average gives Clinton a 2.6-point edge over Trump, although that may understate her advantage there. In the two polls conducted since the conclusion of both party's conventions — and the outbreak of Trump's feud with the parents of a slain Muslim-American soldier — Clinton has led by four and five percentage points.
Pennsylvania
Though Pennsylvania hasn't backed a Republican presidential nominee since George H. W. Bush in 1988, Trump kept it close for much of the spring. But Clinton has since built a solid lead in the Keystone State, besting Trump 49% to 40%, according to RealClearPolitics.
What's behind the gap? In a word, education.
Though a Franklin & Marshall College poll last week found Trump with a 53% to 31% lead among whites with a high school diploma or less, Clinton is more than cancelling that out by walloping Trump among college-educated whites, who backed her 58% to 28%.
Four years ago, whites with at least a four-year college degree voted for Romney by six points nationwide.
Michigan
Trump's predictions to the contrary, Michigan isn't poised to buck its blue trend in presidential elections this year.
The two polls conducted after the party conventions gave Clinton leads of nine and 11 percentage points, and RealClearPolitics finds her with an average lead of 42% to 35%.
Wisconsin
Days after Trump belatedly endorsed House Speaker Paul Ryan at a rally in Green Bay, a poll from Marquette University Law School painted a brutal picture of Trump's standing in the Badger State, whose primary he lost in a landslide to Ted Cruz.
The result: Clinton led Trump 52% to 37% among likely voters.
The RealClearPolitics average finds Clinton up 47% to 37%.
Elsewhere
Things aren't going any better for Trump in pivotal states outside the Rust Belt — so even if he begins to turn things around there, he'll only have begun the work necessary to have a fighting chance.
A CBS News/YouGov poll released over the weekend showed Clinton trouncing him 49% to 37% in Virginia, while most recent polls show her with a small lead in North Carolina, which Obama won in 2008 but lost in 2012. Trump is also trailing in Florida. If Clinton notches victories in those states, Trump's chances of victory are virtually nil — even if he takes Ohio and Pennsylvania.
Even more worrisome for the Trump team, his toxic image with both minority voters and well-educated whites appears to be putting once-solid GOP territory in play. In Georgia, which last backed a Democratic nominee in 1992, Clinton now holds a slight lead over Trump, while the race is deadlocked in Arizona, which has broken for the GOP in each presidential race since 2000.
Even rock-ribbed Republican Kansas — last seen voting Democratic in 1964 — may not be a sure thing for Trump, who only led by five percentage points in a poll released this week. Romney won the state by 22 percentage points in 2012.
To be sure, a Clinton victory in the Sunflower State remains a long-shot.
But a world in which Trump is leading by anything less than a crushing landslide in Kansas is not a world in which he's about to become the next president of the United States.