Donald Trump to Spend Two-Month Anniversary Of Pulse Shootings At Anti-Gay Summit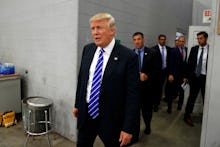 Republican presidential nominee Donald Trump will join other GOP officials including Marco Rubio, as well as a host of extreme anti-LGBTQ religious leaders in Orlando, Florida for a conference on Aug. 11 and 12.
The conference falls on the night of the two-month anniversary of an armed assault in June that killed 49 innocent people at Pulse, a gay nightclub in the city. The "Rediscovering God" conference is hosted by the Florida Renewal Project, which is itself an offshoot of the evangelical American Renewal Project, according to progressive group Right Wing Watch.
Invites were sent out by Liberty Counsel Action, which the Miami New Times describes as a "virulently anti-gay Christian group." As the Times noted, the American Renewal Project is best known for its founder, David Lane:
Lane has argued that God would punish homosexuals praying at President Obama's 2013 inauguration with "car bombs"; encouraged Christians to "prepare for martyrdom" to fight same-sex marriage; quoted an author who said that "same sex marriage practiced universally is suicide"; said homosexuality is a "Marxist psychological conditioning plot"; and compared Republicans who support gay marriage to politicians who supported slavery. We're honestly just getting started here.
According to the American Prospect, Trump will speak at "the American Renewal Project's private 'Pastors and Pews' on Friday." The night prior, Rubio will serve as a headline speaker alongside luminaries like Mat Staver, who denounced area churches for allowing post-Pulse memorial services to degenerate into "homosexual love fests," and David Barton, who believes God is preventing a cure for HIV/AIDS to demonstrate the "consequences of this homosexual behavior."
After the Pulse nightclub attack, Trump congratulated himself for "being right on radical Islamic terrorism" and promised to "protect and defend all Americans," including "gays." However, one Gallup poll in June showed the vast majority of the gay community (78%) had a negative opinion of the candidate.