Malia Obama Smoking: Twitter Jumps to First Daughter's Defense After Video Surfaces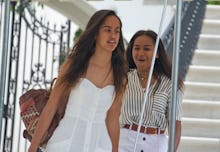 Cool teen and first daughter Malia Obama had quite the time at Lollapalooza in Chicago. Wednesday morning, weeks later, Radar Online published video that appears to show 18-year-old Obama smoking marijuana at the music festival. This caused some people to freak out — one person equated her alleged weed smoking to the "dangers" of Syrian refugees.
But Twitter wasn't having it. The general reaction to Malia Obama's smoking — something her father, President Barack Obama, has openly admitted to doing when he was young — is simple: Who cares?
Videos of Obama turning up at Lollapalooza and living her best life during the Democratic National Convention also went viral last week.
After taking a gap year, the eldest Obama daughter will be attending Harvard University. So, do you Malia Obama.