'Mr. Robot' Aired a Sitcom Opening Theme Parody, And Twitter Is Obsessed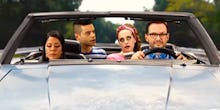 When Mr. Robot creator Sam Esmail teased on Twitter that one of his "favorite guest stars" was going to make an appearance on season two's sixth episode, you'd be lying to yourself if you guessed NBC's '90s sitcom star Alf. Yet, for the first third of the episode, Mr. Robot went there, entering Elliot's mind for a vintage '90s sitcom-style opening during a zany Alderson family road trip — complete with the campy Full House font for the title screen. 
It was audacious, but the series turned in one of its best, and most entertaining, episodes to date. However, Esmail's creative opening doesn't just draw its influence from the '90s; it's beholden to — of all things — a one-off Adult Swim parody that took the internet by storm in 2014. That's right: Mr. Robot did their own Too Many Cooks. 
Like the once-viral video, the Mr. Robot opening begins innocently, with the Alderson family trading quips in the car, cueing its laugh track (the only person bothered by this, of course, is Elliot). But it gradually turns sinister. Elliot looks at Darlene's Game Boy, which is a lens to the present: Elliot is getting beaten to a pulp by Ray's goons. 
Then, Elliot's father — the embodiment of his Mr. Robot persona — jokes about his terminal cancer; Elliot's mother puts out a cigarette on Darlene's skin and slaps her unconscious; Tyrell Wellick is being kept tied and gagged in the trunk of the car; and the aforementioned Alf runs over Elliot's former boss Gideon, who was a cop in the hallucination. 
To top it off, Elliot breaks the fourth wall and talks to the audience. He can't believe what's happening, and he wants to go back to the real world. 
The morose element underneath the campiness harkens back to the influence of Elliot's Mr. Robot persona: he constructs this fantastical world for Elliot as a temporary means to block him out of his brutal, real-life beatdown. Mr. Robot, essentially, takes the punches for Elliot, who later wakes up in the hospital (as Alf plays on a nearby hospital screen) looking all the worse for wear.
But the sitcom-style opening certainly had an effect on viewers, with many taking to Twitter to praise the series' bold move (and Alf!). 
Really, the only problem with the sitcom sequence is a familiar one for Mr. Robot's second season: Once again, Esmail forgoes plot for more meta-commentary and striking visuals — akin to the nature of Too Many Cooks' satire. 
While Mr. Robot continues to toe the line with the plodding pace of its plot, the sheer creativity on display when the show does divert from linear narrative is compelling enough to keep the most impatient viewers hooked. We have, after all, seen memorable monologues on religion and God; trippy Adderall overdoses; unexpectedly poignant discussions on traditional Chinese dresses between Grace Gummer and B.D. Wong; and now, a cameo from Alf. 
Too many diversions could indeed spoil the broth. But for now, Mr. Robot is singing a happy tune.