Simone Biles Just Showed the World How to Talk About Being Adopted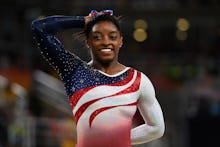 U.S. Olympic gymnast Simone Biles has responded to NBC commentator AI Trautwig's inappropriate remarks about her parents — and as with Biles' gold-medal-winning, physics-defying performances, she totally owned it. 
The controversy began on Sunday, when Trautwig said, on air, that Biles "was raised by her grandfather and his wife and she calls them mom and dad," Us Weekly reported. Later that day, in a now-deleted tweet that was captured by Jen Talley, Trautwig said Biles' parents "may be mom and dad but they are NOT her parents." 
In an Aug. 9 interview with Us Weekly following her team's gold medal win, Biles smoothly put an end to a debate that never should have happened in the first place.
"I personally don't have a comment," Biles told the magazine. "My parents are my parents and that's it."
Biles and her younger sister, Adria, were adopted by Ron and Nellie Biles in 2001, USA Today reported. The sisters had previously lived in foster care because their biological mother, Shanon Biles, dealt with substance abuse. 
Biles' coach, Aimee Boorman, even stepped to the gymnast's defense.
Trautwig apologized for his comments the next day in a statement from NBC Sports, according to USA Today. "I regret that I wasn't more clear in my wording on the air," he said. "I compounded the error on Twitter, which I quickly corrected. To set the record straight, Ron and Nellie are Simone's parents."
Meanwhile, folks on Twitter called for NBC to #FireTrautwig. 
Someone get Biles another gold medal for shutting down haters.