Hairstylist Makes Amends After Ruining a Model's Natural Hair on NBC's 'Today'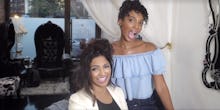 Earlier in August, model Malyia McNaughton smiled through the pain as her natural hair got ruined on NBC's Today in a segment called "60-second summer hairstyles."  
It all started innocently, with YouTube blogger Deepica Mutyala attempting to put McNaughton's hair in a ponytail — but then she touched her bangs. 
For reference, here is a side of what McNaughton looked like before... and then after. 
Obviously, this was a travesty. However, now it looks like McNaughton and Mutyala are turning this embarrassing experience into a teaching moment. 
On Wednesday, Mutyala posted a video called "Natural Hair 101" on her Facebook. In the video, Mutyala, McNaughton and big-name beauty bloggers Akilah Hughes and Tiarra Monet, as well as model Kamie Crawford, gather in a salon to talk about some of the struggles they face with natural hair.
At the top of the video, Mutyala jokingly announces that she's going to show her viewers how to attempt to style McNaughton's hair once again. "Hey guys! Today I'm gonna show you how to style this model's hair in a minute," Mutyala says, before the women in the background chime in, "Dude, stop!" and "Don't do it!" and "No!" 
Then, thankfully, the women who do actually understand how to style natural hair step in to educate Mutyala. 
"I am here to learn all about how to style natural hair, something I'm not very familiar with, and I want to learn all about it," Mutyala says, before the natural hair experts and McNaughton, one-by-one, let her know what she needs to start with, like products, tools and time. 
Then, the women individually talk about their hair styles. They describe how long it takes for them to style it every day (spoiler: it doesn't take one minute) and even how having natural hair has affected them in the workplace. 
For the finale, McNaughton switches places with Mutyala, and McNaughton tries to give her a 60-second style of her own, making sure to mess up her bangs and leave pieces hanging around her face, just like Mutyala did to her on Today. 
Of course, it turns out better than whatever the hell that was on that Today segment.
As horrifying of an event this was for both Mutyala, McNaughton and anyone who has natural hair who watched it, it seems there's no bad blood. Mutyala reached out to try to learn more about natural hair to ensure that this never happens again. 
You can watch Mutyala's entire 101 video below: