'Star Trek: Discovery' Will Have a Female Lead — Plus a Gay Character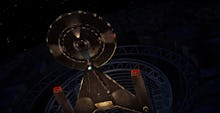 Details for CBS' Star Trek reboot, Star Trek: Discovery, are starting to take shape. Series creator Bryan Fuller confirmed on Wednesday: The new show will feature a female lead. 
According to the Hollywood Reporter, the series will be led by a woman, and the character will likely not be white. 
Fuller will be bucking the Star Trek trend in other ways too: the show will feature more alien characters aboard the ship, and will have at least one openly gay character as a male lead. (This summer's blockbuster Star Trek Beyond featured a gay Mr. Sulu, but the original Sulu's sexuality was never confirmed beyond his having a daughter.) 
"Star Trek started with a wonderful expression of diversity in its cast: a Russian, a black woman, an Asian, a Vulcan," Fuller said Wednesday at the Television Critics Association's summer press tour. "We're continuing that tradition and our lead of the show is going to be subject of that same level of who is the best actor and what can we say about diversity in every role we'll have on the show."
For longtime Fuller fans, the prospect of a woman of color in a lead role isn't exactly surprising. Back in 2013 — before the Star Trek reboot was confirmed — Fuller said in an interview with Den of Geek that his ideal Trekkie lead would be Angela Bassett. CBS, in the meantime, is reportedly still in the process of casting the character.
"We wanted to paint a picture of Star Fleet that's indicative of encountering people who are much more different than we are," Fuller added.
If CBS' president Glenn Geller really wants to improve his network's diversity, as he said at TCA, Star Trek: Discovery is poised to be a promising start. The series will debut on CBS in January 2017 and later move to CBS' All Access streaming service. It will also be available on Netflix in 188 countries.