Sara Ahmed Becomes First Egyptian Woman to Stand on Olympic Podium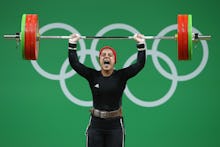 Sara Ahmed, an 18-year-old Egyptian weightlifter, won bronze in her 69-kilogram division, to become the first Arab woman to be presented with an Olympic medal in weightlifting. She's also the first Egyptian woman to win a medal in the 2016 Rio Olympics, according to the Khaleej Times.
While Abeer Abdelrahman — another female Egyptian weightlifter — won silver for the 75-kilogram division in the 2012 London Olympics after three athletes were disqualified for drug cheating, Ahmed is the first to be initially placed third and to stand on the podium for the Olympic sport.
Ahmed, who wore the hijab and a full-body athletic uniform, said that weightlifting and handball were once popular sports for Egyptian women. She was introduced to weightlifting by her brother.
Ahmed hopes her achievement will inspire Egyptian girls and women to take up weightlifting. 
"I hope it will encourage other girls to take up the sport," Ahmed said to the Khaleej Times. "A new weightlifting generation can be born, a new beginning."