Nancy Pelosi Calls Donald Trump's Latest Outburst "Verbal Poo Poo"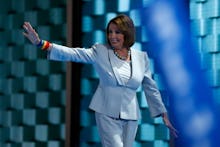 House Minority Leader Nancy Pelosi ripped into Donald Trump Thursday morning during a news conference on Capitol Hill, describing Trump's accusation that President Barack Obama and Hillary Clinton were the "founders of ISIS" as "verbal poo poo."
"It's reminiscent of demagogues who want to be in the press no matter what they have to say," Pelosi said Thursday morning. "They make their verbal poo poo any place to get attention. And this is a tactic."
Pelosi was referring to an accusation Trump hurled during a rally Wednesday night in Florida, in which he said Obama founded the Islamic State group, and Clinton was the "co-founder."
"ISIS is honoring President Obama," Trump said. "He is the founder of ISIS. He is the founder of ISIS, okay? He's the founder. He founded ISIS."
Of course, neither Obama nor Clinton "founded" ISIS in a literal sense. Both have vowed to fight and destroy the group, which has taken credit for numerous attacks across the globe.
Conservative radio host Hugh Hewitt gave Trump an option Thursday morning to re-frame his attack on Obama and Clinton by saying their policies played a role in the rise of ISIS, also called ISIL or Daesh.
However Trump stuck by his statement.
At the Thursday news conference, Pelosi didn't just attack Trump's Islamic State remark.
She also called him out for suggesting "Second Amendment people" could do something about Clinton's ability to nominate Supreme Court justices.
"The comment that was made by the Republican nominee about the Second Amendment — it was clear that he didn't understand that the words of a presidential candidate, the nominee, weigh a ton," Pelosi said.
"There are many other references he could have said about getting out the vote," she continued. "To choose the Second Amendment in the manner in which he did, perhaps unwittingly, but the double meaning that it had, wittingly or not, is ... very problematic and scary."
Trump and his campaign have since sought to clarify the remark, saying he meant they could organize and stop anti-Second Amendment nominees. But many — including Clinton herself — have said the words could be seen as a call to incite violence.