Here's the Science Behind That Rare Bright Blue Lobster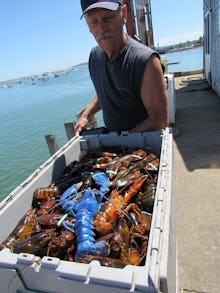 On Monday, Wayne Nickerson, a lobster boat captain off the coast of Cape Cod, reeled up his traps to find something surprising: a lobster with an electric blue shell.
Nickerson called his wife, Jan, and told her to meet him at the docks — he knew how rare this catch was, ABC News reported. "He let out a loud exclamation of excitement," Jan told ABC News. "He was very clear about how excited he was." 
Photos of the unusual catch immediately went viral, and for good reason.
Blue lobsters — especially bright ones, like this — are exceedingly rare. The odds of a lobster having a bright blue hue are widely believed to be one in 2 million, the BBC reported in May. 
But those numbers are a "guess," according to Rob Bayer, the executive director of the University of Maine Lobster Institute. "The chances of this happening nobody really knows," he told the BBC.
Blue lobsters get their coloring from a "genetic abnormality" that triggers increased production of a certain protein that affects the color of their shells. There are other colors of lobsters too — like yellow — but those are "even rarer," according to the BBC.
The lobster Nickerson caught on Monday won't wind up on a dinner plate. Jan named it "Bleu," and posted on Facebook that "the lobster went to a nice cool tank so he wouldn't die. He is fine... healthy and happy."
According to ABC News, the family plans to send Bleu to an aquarium. They've also done a lot to make sure Bleu knows he's valued. "I picked him up and talked to him," Jan Nickerson wrote on a Facebook photo. "Told him just how special he is."