Green Day Announce New Album 'Revolution Radio,' Share First Single "Bang Bang"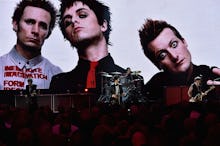 Green Day announced its return to punk rock with a new album titled Revolution Radio in an interview with Rolling Stone on Thursday. It's the band's 12th album, and it arrives four years after its musical trilogy: ¡Uno!, ¡Dos! and ¡Tré!
The album's title is inspired by an experience the band's frontman shared with Black Lives Matter protesters during a demonstration in New York City. "I got out of my car and marched with the people," the band's lead singer, Billie Joe Armstrong, told the publication. "It was a trip to see people rebel against the old order."
The band first announced its album while getting inducted into the Rock and Roll Hall of Fame in April 2015, promising the album won't be "some, like, victory lap." It had to come from "a real place and be inspired" or it wasn't going to happen.
"There's definitely a great spirit going on," he said. "We've always been pretty charged up. Before we found any of this out, I had already written a few songs and everybody was really excited by them. And then we heard about [being inducted into the Rock and Roll] Hall of Fame, and we were just blown away. Yeah, I mean, we're going to take our time."
The first single is sung from the point of view of a mass shooter, or as Armstrong describes the character, "Daddy's little psycho and mommy's little soldier."
"I wanna be a celebrity martyr," Armstrong sings. "The leading man in my own private drama/ Hoorah, bang, bang, hoorah, bang, bang, the hero of the hour."
The album is slated to arrive Oct. 7 via Reprise.
Aug. 11, 2016, 2:37 p.m. Eastern: This story has been updated.
Correction: Aug. 11, 2016