President Obama Drops His Final Summer Playlist — And the Tracklist Is Too Lit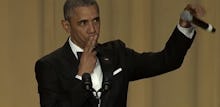 To close out a presidency as inspiring as Barack Obama's, one mic drop just will not do. To help the free world ride out the end of his last term in style, Thursday morning Obama dropped his second annual summer playlist.
"Been waiting to drop this," the President wrote on Twitter, like an MC emerging from a release date battle with his label. "Summer playlist, the encore. What's everybody listening to?"
The eclectic soundtrack, available to stream on Spotify, includes rising talents in hip-hop and R&B, such as Leon Bridges and Chance the Rapper, as well as some of the president's favorite legacy artists, like Aretha Franklin, Beach Boys, Janet Jackson and Billie Holiday.
Like his last playlist, which POTUS dropped while he was vacationing on Martha's Vineyard in 2015, the playlist's 39 tracks are divided into two categories: day and night.
The day half features more upbeat tunes, such as Janelle Monáe's electrifying "Tightrope" and Gary Clark Jr.'s "Don't Owe You a Thang." The latter half offers softer more soothing melodies for winding down the night, from Ledisi's "Alright" to D'Angelo's "Lady." 
We can't help but picture the president and first lady dancing in the center of the Oval office to these slow jams, as they reminisce about the past eight years together.
Update: The artists Obama chose to feature in his playlists have started to weigh in on their inclusions. Chance the Rapper, Jidenna, Common, Wale, Nas and Corinne Bailey Ree have all shared their thoughts on his picks.
Listen to both the day and night playlists below.
Aug. 11, 2016, 5:46 p.m.: This story has been updated.