Donald Trump Staffer Allegedly Pulled a Gun on a Colleague, But Received No Punishment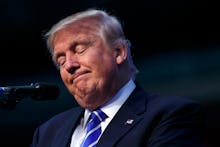 Donald Trump was hit with a lawsuit from a former campaign staffer, who alleged that the Trump campaign did not act when the campaign's former North Carolina state director "pulled a gun" on him.
The lawsuit — first reported by local North Carolina television station WBTV — was filed by Vincent Bordini, a former software trainer on the Trump campaign.
Bordini claimed that then-North Carolina State Director Earl Phillip "produced a pistol, put his right index finger on the trigger, and drove the barrel into [Bordini's] knee cap" on Feb. 13 in South Carolina.
In the complaint, Bordini says he reported the incident to three separate Trump campaign officials — including then-campaign manager Corey Lewandowski — but that "nothing happened."
"Lewandowski said that he took Vincent's complaint seriously," Bordini says in the complaint. "Upon information and belief, Lewandowski did nothing to correct Phillip's brazen behavior. He certainly didn't suspend or terminate him."
Bordini is suing both the Trump campaign and Phillip for "assault, battery, intentional infliction of emotional distress and negligent infliction of emotional distress."
According to WBTV, the Trump campaign removed Phillip from his role as the campaign's North Carolina state director last week.
This is not the first lawsuit related to the Trump campaign.
In July, Trump filed a $10 million lawsuit against a former staffer for an alleged violation of a confidentially agreement.