Which Jobs Are Most Dangerous? These Are the 10 Riskiest U.S. Professions.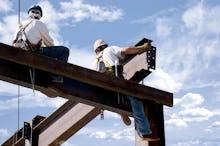 When you hear the phrase "dangerous job," you might imagine a firefighter putting out deadly blazes before a nurse tending to sick patients. 
But according to a new study, the two professions have more in common than you'd think — at least when it comes to occupational hazards.
Released by CareerCast on Thursday, the study analyzed 200 U.S. jobs and pulled out the 10 most likely to put workers in harm's way, specifically in terms of rates of injury or illness on the job.
Second only to firefighters, nurse assistants are more likely than people in any other profession — including police officers — to get sick or hurt. With an incident rate of 12%, nurses' assistants get ill or injured almost exactly as often as firefighters, who have an incident rate of 12.1%.
Alas, nurse aides aren't so well-compensated for the risks they take: Police officers, for example, make a median salary of more than $60,000 a year, compared with nurses' assistants' $25,000, the report found.
Farmers also face among the most dangerous workplaces in the country, with more than 167 workers reporting illness or injury on the job each day, mostly because of issues with heavy machinery and livestock.
Here's the full list: 
• Construction laborer
Even when you consider fatalities, rather than illness or injury, other lists rank a surprising mix of professions — including loggers and roofers — higher than many jobs that one would likely presume to be more dangerous, such as being an officer of the law.
The CareerCast study also looked at the safest jobs in the United States. Their research found that those lucky enough to work behind a desk probably don't have as much to worry about. Jobs in information technology, computers, and accounting all ranked among the safest jobs one could have. 
Of course, desk workers may still want to get up and walk around a bit throughout the day, lest they suffer their own brand of work-related ailments that are still being studied.
While workplace incidents and injuries are rigorously documented, as representatives from CareerCast told CNBC, there is still much research to be done about the potential negative effects of spending too much time seated at a desk for work.
To reach its conclusions, the CareerCast study looked across eight industries, including healthcare and law enforcement, combining data from its own 2016 jobs report with data from the Bureau of Labor statistics, the Centers for Disease Control, the Occupational Safety and Health Administration and various trade data.