We May See More of Harley Quinn (and Possibly Margot Robbie), According to DC Comics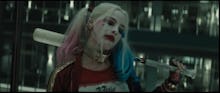 If Harley Quinn fans were concerned that Suicide Squad's negative critical reviews were to impact the character's future on the big screen and other properties, rest assured: DC Comics knows that the villain is a heavy fan-favorite. 
Quinn, played by Margot Robbie in the film, was one of the few bright spots in DC's otherwise maligned venture. But Harley's influence on DC Comics — within their comic books, merchandising, series and films — is quite evident. 
"I refer to her as the fourth pillar in our publishing line, behind Superman, Batman and Wonder Woman," DC publisher Jim Lee told Vulture. The piece also noted she was the most popular Halloween costume in the United States in 2015. 
The other "pillars" of DC's line — Superman, Batman and Wonder Woman have had or will have standalone films by 2017. Therefore, the prospect of a Harley Quinn spin-off with Robbie, which DC was developing prior to Suicide Squad's abysmal reviews, may still be in the cards. Robbie, for her part, would love to explore the character further. 
"I'm trying to make that happen," Robbie noted, in an interview with the web series Tipsy Talk, on the prospect of a Harley Quinn spin-off. "Not for anything specifically, but just something — there's so much more to do."