Here's what the DEA ruling on marijuana classification means for the legalization movement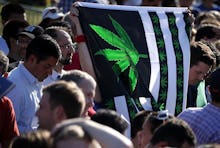 The Drug Enforcement Agency on Thursday once again denied a bid to remove marijuana from the list of Schedule I drugs — a classification that denotes pot as a dangerous drug with "no medical use" similar to that of heroin and LSD.
But experts say the ruling will have almost no impact on the movement to legalize cannabis in states throughout the country.
"Scheduling is a really misunderstood part of drug policy," said John Hudak, a senior fellow at the Brookings Institution who studies marijuana policy. "Classification simply changes the rules by which federal researchers, or researchers conducting federally approved studies, would have to abide by. It has no impact on the legal cannabis market."
In fact, while the DEA announced it would keep cannabis as a Schedule I drug, it also said it will approve more facilities to grow pot for research.
Currently, only the University of Mississippi is approved by the federal government to grow marijuana for research purposes — which limits the amount of strains researchers can study.
"A lot of research was stymied by only being able to use the product coming out of the University of Mississippi — which is quite limited," said Sam Mendez, executive director of the Cannabis Law & Policy Project at the University of Washington. "There's a lot of strains out there, a lot of variety in the plant, and it would be like judging all alcohol out there by drinking only Bud Light. There's a lot more to it then just that."
Hudak agreed.
"The situation researchers face [...] if Ole Miss can't provide the exact strain or composition or potency of marijuana you need for your study, you have to change your study to meet the products that they can provide," Hudak said. "And that's not healthy for scientific integrity."
As for changing the classification of the drug, Mendez said he is not surprised with the DEA's decision.
"I had been saying since earlier this year that it was unlikely they would reschedule," Mendez said. "They've had a pretty consistent stance on marijuana for 46 years, and to expect them to change this year ... the government doesn't change their tune that quickly."
Experts said that the DEA's decision Thursday does not change the fact that five states have marijuana legalization ballot initiatives this fall, including Arizona, California, Maine, Massachusetts and Nevada.
"Changing the schedule couldn't possibly have an impact on how voters think," Hudak said of marijuana. "And I can't imagine there's a voter in Massachusetts who's going to say, 'Wow, the DEA said this should be a Schedule I substance, I think I'm going to rethink my vote.'"
Mendez added that a critical mass of states legalizing the drug could help move the government to look at marijuana differently — especially if it could be a large source of tax revenue.
"You still have adult-use legalization on the ballot four states, California being the largest among them, and from what I've heard, I think there's a good chance California will still legalize," Mendez said. "If and when that will occur in November, that will affect the movement and affect the economy."