Judge Aaron Persky, Who Sentenced Brock Turner, Gave This Sex Offender 4 Days in Jail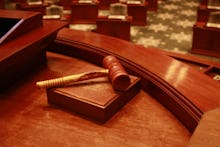 Judge Aaron Persky, notorious dealer of Brock Turner's incongruously light punishment, seems to love giving out light sentences. For example: He once gave 48-year-old Robert James Chain, who harbored over 200 child abuse images on his computer, a sentence of four days in jail. 
"This is truly disturbing material just like all the others," Michele Landis Dauber, a Stanford law professor, told the Guardian, which recently obtained police records detailing the 2015 case. "The only variable that seems different between this case and other cases is that this defendant had Judge Persky." 
Dauber is leading the charge to recall Persky — a campaign launched after Persky awarded Turner, an ex-Stanford swimmer convicted of sexually assaulting an unconscious woman behind a dumpster, six months in jail. He'll probably only serve three of those, whereas the maximum term would've been 14 years. 
Persky reasoned that prison would have a "severe impact" on Turner, whom he deemed an unlikely repeat offender because of Turner's youth and previously clean record. Some have speculated that the decision had something to do with Turner's being white, as Persky has not shown this kind of leniency to minority men guilty of similar crimes.
Chain — who, like Turner, is a white man of means — committed a felony that could have earned him up to three years in state prison, according to the Guardian. In 2014, authorities searching Chain's home found a staggering number of "child erotica images and possible child pornography images" — including one photograph of an adult sexually assaulting an infant — and videos. 
Rather than sentencing him to three years in prison, Persky gave him four days in prison with three years of probation. Persky also said he would be "receptive" to dialing back Chain's felony charge to a misdemeanor after the first year of probation. 
The Guardian found that Chain's lenient sentence was an anomaly; other offenders who'd pled guilty to possession of child abuse images on a similar scale ended up with at least the minimum sentence of six months. 
It's not an anomaly for Persky, though: This is a man who once allowed the defense attorneys litigating a gang rape case to display revealing photos of the 17-year-old victim in court. In Dauber's esteem, the Chain sentencing is classic Persky.
"It's pretty clear from our perspective, we have a judge who is not taking the harms of sexual violence and sexual crimes seriously enough," she told the Guardian.