'Captain Marvel' Movie Will Give Brie Larson's Superhero a New Origin Story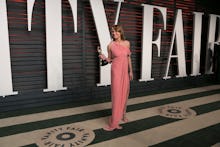 Marvel's first superhero film with a female lead, Captain Marvel, doesn't come out until 2019, but the studio is already making smart choices with the character. Captain Marvel, who will be played by Oscar-winning actress Brie Larson, will have a new origin story separate from her arc in the comic books. 
Speaking on the Any Time With Vin Forte podcast Wednesday, Captain Marvel screenwriter Nicole Perlman noted that the change was, in part, attributed to the similarities between the character's origin story and that of Green Lantern, who had his own feature film in 2011 (starring Ryan Reynolds). 
"There's a lot of reinvention that needs to happen," Perlman said. "She's her own person and she's a great character. We have to be aware of what's happened in [the film] and make sure that her particular storyline is unique and fun and also fits in within this world that's going on at the same time." 
In the original comics, Captain Marvel was introduced as a love interest first, rather than a superhero in her own right. The original Captain Marvel was actually Captain Mar-Vell — a male alien — who died in the comics in the '80s. Afterward, Carol Danvers assumed the Captain Marvel mantra from her then-boyfriend. (Larson will still be playing Danvers' iteration.)
Therefore, it's not just distancing itself from the Green Lantern narrative — which, for what it's worth, was panned by critics — but will hopefully provide the character a more empowering arc in the process; one not beholden to men. 
Captain Marvel is scheduled for a March 2019 release. In the meantime, Larson will keep reading up on her character's backstory.