Robert Glasper On How Jazz and BLM Are Bringing About a New "Harlem Renaissance"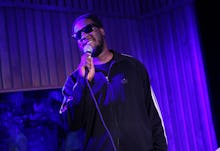 Few musicians have done more to make the industry maxim "jazz is dead" seem like an old, moldy cliche than Robert Glasper. 
The 38-year-old, Houston born pianist has been grinding out brilliant fusions for over a decade. His free mixtures of jazz musicality with hip-hop, R&B and soul have spawned Grammy-winning classics, such as 2012's Black Radio, which gathered Erykah Badu, Lupe Fiasco and Yasiin Bey (aka Mos Def) to sing songs of black joy and black rage over loose, cut-up swing.
It was a starting point of sorts. It helped remind the world that jazz still has something to say. And since then, the genre has felt more vital than it has in decades. 
In 2015, jazz provided the perfect conceptual frame for Kendrick Lamar to spin out To Pimp a Butterfly's agonized mediations on racial injustice, which Glasper contributed piano to. It aided Flying Lotus in creating a fresh take on EDM on 2014's You're Dead! It's allowed Ghostface Killah to feel like the only Wu-Tang Clan member that still has a muse. The renewed attention has managed to earn albums like Kamasai Washington's The Epic best new music nods from the new generation of tastemakers at Pitchfork. 
Each of these projects has also woven strong black liberation messages in with their jazz vocabulary. It's a connection Glasper doesn't see as being all that coincidental. A new "Harlem Renaissance" is what he called it in a recent phone conversation with Mic, while discussing his appearance at the BRIC Celebrate Brooklyn! Festival, where he'll be opening for Herbie Hancock. We talked jazz's crossover flexibility, which Glasper claims is not at all new, and the ongoing struggle to introduce young listeners to the tenants of the genre.
Mic: I hear you just got back from a Japan tour. What is it like playing jazz overseas? I know all the older jazz dudes, Miles Davis, etc., used to comment on the ways audiences overseas react versus American audiences. Do you see people engage with the music differently now?
Robert Glasper: Honestly, they treat it with a little more respect in Europe. They honestly do. They support it more. They buy the records more. I guess it's one of those things because they don't get it all the time. I feel the best jazz musicians are here in America, so if you don't get it all the time, you're more likely to treat it like gold. Americans just treat it like a second-child kind of vibe. I mean, we get paid more in Europe when we play jazz.
I talked with [saxophonist] Terrace Martin [another Kendrick Lamar collaborator] the other day. He had a bunch to say about playing with Herbie Hancock. What are your thoughts about sharing the bill with someone who looms so large in jazz?
RG: It's awesome. It's a mixture of being super excited and honored and being scared. Because it's Herbie. He's someone I've looked up most of my career. He's the reason I'm able to do what I do. He kicked down a lot of doors. It's a real honor to share the stage. I'm really happy that this is happening. Especially in Brooklyn. I haven't played much in Brooklyn since 2004. Maybe once since then, or twice. And I know Herbie hasn't played in Brooklyn for even longer. So this is for Brooklyn.
There's been such a resurgence in jazz in the past few years. You have people like Pitchfork giving best new music to Kamasai Washington. Jazz has become as hip as some of the other genres that overshadowed it for a long time. How do you explain that resurgence of interest in the form?
RG: I probably say I had a big hand in that [laughs]. I think once we won that Grammy with the Black Radio album in 2012 ... I think that put jazz in the spotlight for the younger people. 
"The cross pollination has been around. Back then, it was easy, you know, especially for African-American musicians to go from black music to black music to black music — from rock to hip-hop to R&B." — Robert Glasper
Obviously Herbie won album of the year at the Grammys a few years ago. But for my generation: It was when Esperanza Spalding won best new artist over Justin Bieber. That was a big thing. I think that really opened doors and really made other places like Pitchfork and all these other online publications really pay attention more to us. We crossed back over into cool, letting other people come in like Snarky Puppy, Hiatus Kyiote. They get a chance to shine. Kamasai came in with that. Thundercat. It was a whole movement of people. Once the door was cracked, they pushed the door open.
I posed this question to Terrace and he was very resistant to calling the music that he makes "jazz." I wonder what you felt. Do you describe the music you make as jazz, or is it something else?
RG: Well, when I'm making jazz, yeah. I make different music, depending on the project. It could be jazz. It could be hip-hop. It could be R&B. Though, just because I'm a jazz musician doesn't mean that everything I do is jazz. That's the misconception. It can be hard to get people on board.
I was thinking about that seeing Kendrick at Panorama Festival in NYC. His band can take one song and shift it between trap into very melodic jazz into hard rock. I'm fascinated by the way genres are blurring nowadays.
RG: There's history to it: Back in the day, jazz musicians — mainly African-American jazz musicians — were the ones that were playing on all the R&B albums we love today. So back then there wasn't as much of a wow factor that the music was blending, because all the same musicians were playing on all those sessions. Then there was a big period where it just stopped. And now that's it's happening again, everyone's like 'Where'd this come from?' but it's actually something old that's coming back again.
Donald Byrd, Ron Carter, McCoy Tyner [all played all these different styles]. Miles [Davis] would do stuff under a different name. They'd do it because jazz wasn't paying the bills — so they would do other stuff. John Coltrane was one of those. He was a blues saxophone player. He used to play in blues bands, walking across the bar playing for change. The cross pollination has been around. Back then, it was easy, you know, especially for African-American musicians to go from black music to black music to black music — from rock to hip-hop to R&B.
This is something Terrace and I spoke about the other day: that the resurgence of jazz and it's ability to blend styles of black music, like you're saying, is somehow tied up with the the resurgence of civil rights. Like Black Lives Matter movement and jazz both being two prongs of a similar impulse. Does that feel true to you?
RG: I could see that. I could totally see that. I think that our struggle right now — it's bringing in more people that have their own identities. And when you have that — it broadens the music, it broadens minds. The whole movement is just an expansion of creativity. The whole picture — everything is just a little more creative, and people are seeking new ideas. I appreciate that. It does feel like a Harlem Renaissance reborn. 
I like that. Perhaps a Brooklyn Renaissance this time.
RG: I like that. A Brooklyn Renaissance.
I'd love to hear you talk about Kendrick's To Pimp a Butterfly, which was one of my favorite albums from last year and one of the albums that really joined Black Lives Matter and jazz. I know you were pretty involved in it. Tell me how it was working with him.
RG: I just kinda came in on the end of it. I was recording my trio album Covered that I put out last year. I recorded that record and Kendrick Lamar's record in the same night.
Really?
RG: Yeah, man. It was a live record. I finished the session, jumped in an Uber and went to Kendrick Lamar's session. I spent about two hours in the studio and all he did was pull up songs and would say, "Play whatever you hear on this." And I would listen and say okay, and we did a take. Everything was one take. He let me just play what I hear.
It still seems we have far to go in terms of bringing back jazz to its golden age. Why do you think it's difficult for younger people to try to figure out what jazz is trying to say?
There's a generational gap first of all. For older people, jazz was more present. Nowadays it's harder to discover something. When you hear jazz today, it's probably not a reflection of this time period; it's probably old jazz from the '50s on radio stations. In R&B, they're pushing Chris Brown, let's say that. Or Justin Timberlake. They're not hiding those new guys. That's why their genre is still moving. But the jazz industry doesn't do that.
On iTunes, the number-one jazz album is still Miles Davis Kind of Blue. Even if new cats come along and top it, I always get number one when I got out a new album, all the time. It'll stay for a few weeks, but lo and behold Miles Davis's Kind of Blue will always come back and take the charts. No other genre has that problem of having an artist that's no longer alive top the charts every year.