Did Media Miss the Most Important Thing About Last Week's Pakistan Hospital Bombing?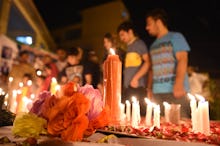 Scores of lawyers gathered last Monday in a hospital in the Pakistani province of Balochistan to mourn loss of their colleague, Balochistan Bar Association president Bilal Kasi. Kasi had been shot and killed earlier that day in an apparent assassination. 
It was then and there, with Kasi's many peers having come together to grieve their fallen friend, that a suicide bomber detonated his explosives. The bomb blast killed many of them instantly, leaving carnage across the hospital floors. At least 70 died and around 120 were injured.
Both ISIS and a faction of the Pakistani Taliban claimed responsibility for the attack.
Large swaths of Western media painted a binary and reductive picture: Terrorists with no regard for human life kill innocent people in the name of religious and political ideology, or some variant thereof.
But one of the prevailing theories amongst regional specialists regarding who was behind the attack and why is a lot more complicated and far-reaching than the two-dimensional "Islamic extremists" narrative served by many American news outlets. And these speculations involve huge international players like China and India.
How could China and India be linked to a Taliban suicide bombing? As far as any involvement from China is concerned, it starts with a massive $46 billion trade initiative with Pakistan to create the proposed China-Pakistan Economic Corridor. Much of the CPEC would go through Balochistan, down to Gwadar Port, thereby providing China access to the Arabian Sea.
This is a very attractive deal to an underdeveloped province in an already underdeveloped country. To put the CPEC deal in context, $46 billion is approximately 20% of Pakistan's $232 billion gross domestic product.
"The [Pakistani] army chief has given a statement [regarding Monday's bombing] implying the Indians are involved," said Najam Sethi, a local journalist and former-chief minister of neighboring province Punjab. "Some people believe India is trying to thwart the China route, which would be a huge investment in Pakistan over the next 10 years."
Speculation that Monday's hospital attack was part of India's larger attempt to sabotage the CPEC is in part rooted in the fact that it would run through Kashmir, a territory long since disputed by Pakistan and India. But India's objections are also less explicit — there are both the economic and geopolitical threats.
Given the growing strategic ties between India and the United States, a robust international alliance is emerging. Pakistan's historic enmity with India has pushed it further into the Chinese axis of influence; this alarms India which is competing with China as an Asian power, explains Raza Rumi, a Pakistani policy analyst, columnist and professor. This is also why regional specialists suspect that India will attempt to jeopardize the alliance between Pakistan and China.
"The Pakistani government has to shun violence as a policy."
And these suspicions are not entirely unfounded. In March, an Indian naval officer, Kulbhushan Jadhav, was arrested and provided a publicly shared confession regarding his involvement in terrorist activities in Pakistan. He was working primarily in Balochistan and Karachi, Pakistan's largest city.
"His goal was to disrupt development of the China-Pakistan Economic Corridor, with Gwadar port as a special target," Lt. Gen. Asim Bajwa, the director general of press relations for the Pakistani military, said in March, according to Dawn.
"This is nothing short of state-sponsored terrorism," Bajwa added. "There can be no clearer evidence of Indian interference in Pakistan."
India has publicly opposed the CPEC deal on principle, but the country has officially issued a blanket denial of involvement in terrorist activities in Pakistan. However, recent events have likely antagonized India: Pakistan humiliated an Indian naval officer and accused its government of state-sponsored terrorism.
Where does the Pakistani government fit into all this? Due to a 2014 military offensive in northern Pakistan, targeted at the Taliban, the terrorist network has since relocated to the shared Afghan-Pakistani border in Balochistan. So, while various factions of the Taliban and India may have very different end goals, they both benefit from violent unrest in Pakistan. And this could be fueling an alliance of sorts between the two.
It is precisely these convoluted regional relationships which have precipitated loud rumors regarding India's potential involvement in Monday's bombing. That is to say, it is not incongruous with the unspoken proxy war between India and Pakistan.
Endless complications, subtexts and political undercurrents aside, Rumi maintains Pakistan needs to play a more active role in combating systemic violence.
"While external intervention cannot be ruled out through support of the Pakistani Taliban by Afghanistan and India, we need to secure our territories to clean up these groups that are operating within the borders," Rumi reflected.
"Pakistan has to decide: It cannot be a country which hosts such groups and allows madrasas that produce these young men, these extremists," Rumi concluded. "And this can only be solved with a holistic approach to violence — the Pakistani government has to shun violence as a policy."