I Tried Kylie Jenner's Instant Ramen Recipe Hack. The Results? Shockingly Tasty.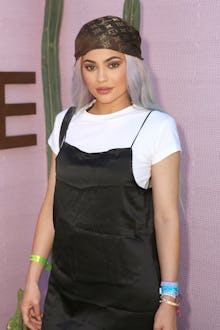 There are many things that famous lips Kylie Jenner does that I can't get behind. This list includes thing such as her non-stop appropriation of black hairstyles, her uncomfortable Snapchat make out sessions with rapper Tyga or the fact that she owns more luxury cars at the age of 19 than I will own in a lifetime. 
Her ramen recipe, on the other hand, is genius. 
Last week, Jenner posted a photo to Snapchat of her preferred method for making instant ramen. In it, King Kylie revealed that she likes to add butter, garlic powder and an egg to her noodles. The internet lost its mind. 
A number of people were grossed out by the additions of butter to the cheap noodles; others couldn't wrap their heads around the idea of adding an egg to the dish. 
_____________________________________________
Read more: 
As someone who loves ramen but is skeptical of Kylie, I decided to put the "recipe" to the test. In theory, it actually sounded pretty great to me. In the past, I've spruced up instant ramen packages by mixing in a bit of peanut butter to make a silky sauce. And, while many appear to be weirded out by the addition of butter, there are Japanese ramen styles where a pat of butter in the broth is standard, Serious Eats noted. Egg is a common ramen addition, too. 
Jenner's recipe called for four ingredients, all of which should be available at virtually any grocery store. I grabbed a bag of Machuran instant ramen. Jenner did not indicate what flavor or brand of ramen she used (though she is apparently a Top Ramen loyalist.)  
I grabbed some random garlic powder from the store, used Breakstone's butter and an egg.
Kylie wasn't clear about ingredient brands, measurements or instructions, so I prayed to Yeezus and just went for it.
It was incredibly easy to make. For the noodles, I followed the instructions on the package (boil two cups of water, cook noodles for three minutes, add in the seasoning packet and cook for one more minute while stirring). So far, so good. 
The package technically serves two, but it appeared as though Jenner, like any hungry human, treated it as one serving, so I did too.
Then came time to mix in Kylie's additions. I started with garlic powder, sprinkling two shakes' worth into the bowl. I then cut a square of butter, but decided it was too much and halved it. Then came the egg, which I just cracked over the noodles. I grabbed a fork and gave the ramen a vigorous stir — which is much easier to do in a deep bowl — until the egg was thoroughly mixed in. The finished product looked like the plain instant ramen with a slightly more cloudy broth.
The garlic powder was a stellar addition that I think I'm going to use more often. (Who knew I would one day learn something from Kylie Jenner?) It really kicked up the umami flavor of the seasoning packet. The butter was also a good call: Even the small piece I used made the dish taste richer and smoother. The combination of the garlic powder and butter made the ramen taste like it cost more than $0.30 to make. 
The egg, on the other hand, didn't really work for me. It didn't really do much for the flavor or texture. Next time I make instant noodles, I would probably take the five extra minutes and whip up a poached egg to throw on top, so that I could actually taste it. (Plus, it looks fancier.) 
The big thing this recipe was missing was a genuinely fresh ingredient. A few pieces of scallion would not only make the ramen way more Instagrammable, but would also add a nice onion flavor. 
Overall, Jenner is onto something with her ramen preferences. I, for one, would definitely make the noodles this way again. Perhaps the lip kit queen should consider adding ramen kits to her burgeoning empire.