Drug Sales on the Dark Web Have Tripled Since the Demise of Silk Road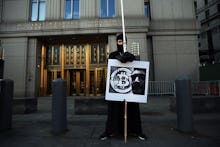 We're living in a post-Silk Road world, and in it, online drug sales are exploding.
New research shows that transactions involving illicit drugs on the so-called dark web, a part of the internet only accessible by special software, have tripled ever since Silk Road went dark in 2013. 
Between February 2011 and July 2013, Silk Road, essentially the Amazon of illegal substances and the largest dark web market in existence at the time of its demise, handled about 1.2 million transactions — valued at about $1.2 billion — in a cryptocurrency called Bitcoin.
"The closure of Silk Road has not curbed the growth of these cryptomarkets, as more markets continue to be created and more illicit drugs are being bought online," said Stijn Hoorens, a research leader at global policy think tank RAND Europe and one of the report's authors, in a press release. "This is despite several high-profile law enforcement interventions and exit scams by market administrators. Cryptomarkets are often online only for several months and users seem to be operating under the assumption that they could be closed at any moment."
Presently, the total drug revenues from these dark web markets are somewhere between $12 and $21.1 million a month, according to the report. The numbers are paltry when you consider the offline drug world; in Europe alone, it's a $2.3 billion industry per month. But what's especially telling is how many of the transactions were large sales. According to the report, a quarter of the total drug revenues on dark web markets from January 2016 were more than $1,000, suggesting some street dealers are getting their supplies online, creating a chain from on- to offline business.
The findings validate one argument of those skeptical of the FBI's handling of the matter: If you shut down Silk Road, another market — and another, and another — will rise up in its place. And in the meantime, the revenues of dark web dealers have only doubled.