Here Are 7 Things You Should Know About Mo Farah, World-Class Distance Runner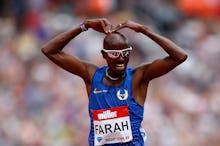 For Mohamed Muktar Jama Farah, more commonly known simply as Mo Farah, the last four years have been a whirlwind. With the pressure on him at the 2012 Olympic games in his home country of England, the then-29-year-old certainly didn't disappoint. Farah's performance at the Olympic Stadium in London that year propelled him into the spotlight and garnered him headlines next to A-list celebrities like Will and Kate and One Direction.
Today, many consider Farah the greatest runner in British history. Here are seven facts about the Olympic runner you should know:
1. Farah was born in Somalia in 1983 and moved with his father to London at the age of eight.
2. Becoming a world-class distance runner was not Farah's main dream in life growing up. He instead wanted to be either a soccer legend with his favorite team, Arsenal, or become a car mechanic, he told the Guardian.
3. The 2008 Beijing Olympics was Farah's first Olympiad, but they didn't pan out in his favor. He was eliminated from the 5,000 meters in the semifinal round.
4. Farah secured his first major track titles in 2010, when he became only the fifth man in 66 years to win both the 5,000 and 10,000 meters at the European Championships. Those feats led to Farah being selected as the track and field athlete of the year by the British Olympic Association.
5. Farah went from a continental force to a world force in 2011, moving overseas to Eugene, Oregon, to train under coach Alberto Salazar. That move contributed to Farah winning his first world title, claiming gold in the 5,000 meters over distance superstar Bernard Lagat in Daegu, South Korea.
6. Farah culminated his rise to superstardom at the London Olympics in 2012, winning the 5,000/10,000 meter double in front of his home fans. He was appointed Commander of the Order of the British Empire at year's end, though some people thought he should have been knighted, including then British Prime Minister David Cameron.
7. Farah would go on to win the 5,000/10,000 meter golds again at the next two track World Championships, the 2013 event in Moscow and last summer in Beijing.