Simone Biles Wins Gymnastics Gold in Rio Olympics 2016 Individual All-Around Competition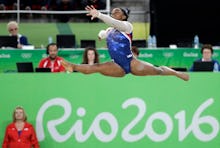 Simone Biles won the gold medal in the women's gymnastics individual all-around competition in stunning fashion at the Olympic Games in Rio de Janeiro Thursday afternoon.
The 19-year-old became the fourth gymnast in a row from Team U.S.A. to win the event, following Carly Patterson in 2004, Nastia Liukin in 2008 and Gabby Douglas in 2012. 
Biles was also the second black American in a row to win the competition — an unprecedented feat in Olympics history.
She closed the competition with a vintage floor exercise routine, showing off "the Biles" — her signature flip that ends in a blind landing — and letting the world know once and for all why she is considered the best gymnast in the world.
Biles' margin of victory was staggering 2.1 points over the silver medalist, her American teammate Aly Raisman:
With Biles' and Raisman's victories, the two young women further solidified Team U.S.A.'s dominance in the sport this Olympics. The women's gymnastics team — consisting of Biles, Raisman, Douglas, Laurie Hernandez and Madison Kocian — won the gold medal in the team all-around competition on Tuesday as well.
According to the New York Times, Biles' final score was a remarkable 62.198, including 15.866 on the vault, 14.966 on uneven bars, 15.433 on balance beam and 15.933 on the floor routine.