Dolly Parton talks new album, Miley Cyrus and potential clothing, makeup and wig line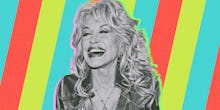 I played this game with several friends leading up to my chat with Dolly Parton: Make one valid argument against Parton's status as one of the best there ever was. It wasn't a particularly fun game in that it resulted in silence. Dolly Parton is, through and through, an unproblematic fave. 
110 charted singles through her 50-year career. 45 Grammy nominations (including 7 wins). Hall of fame inductions galore (including the Country Music Hall of Fame as well as the Happiness Hall of Fame). Two Academy Award nominations (9 to 5, Transamerica).  And, arguably her largest career accomplishment to date, a cameo on a Season 8 episode of The Bachelorette.
Dolly also redefined conventional beauty standards by proudly admitting an unabashed love of the "trashy" aesthetic, unafraid to embrace bleached yellow hair, her sizable bust or her penchant for long acrylic nails.
With the launch of her 43rd solo studio album to date on August 19th, Mic chatted with Parton about the impact that music can make in times of great tragedy, the surprisingly well thought out fashion line she hopes to one day create (yes, there's a wig line too), her status as a style icon and of course her goddaughter Miley Cyrus. 
Mic: The album title and, in many ways, the soundscape of this album are both pure and simple. What was your creative impulse in approaching this album?
Dolly Parton: I had done a show in Nashville at the Grand Ole Opry and I had done charity shows for Dollywood for my Imagination Library, where it was just me and a few others because most of my big band had already gone on to work with other people because I wasn't planning to tour — this was last year. But when we did those shows, they got such great reviews, I thought I should just do that. I just called it Pure & Simple because it's just the four of us. 
So when we got ready to tour I figured, well, I need an album and what will it be? It'll be pure and simple. What should it be about? Well, it should be about love. I just wrote these songs and they just seemed to flow. It's my 50th anniversary this past year; love was the theme, so I just pulled from all my emotions through the years and wrote an album of love of many colors.
In the wake of the tragedy in Orlando, we saw countless musicians come together to record songs in solidarity and remembrance of those whose lives had been lost. How powerful of a role do you think music plays in helping people both grieve and heal in times of great sadness?
DP: Music is the voice of the soul. As Mac Davis' song says, 'Music is the universal language, and love is the key.' I think that when other people come together, because people relate to their favorite artist, it gives them something to look to and to hold on to and to feel like they're a part of. I think it's up to us, as celebrities, to lift up mankind and be of help in times of crisis.
Do you think of yourself as a style icon?
DP: A style icon? Hardly. I laugh when people comment on my style and think, 'Me? Of all people! I have no class... unless it's low.' I have no style because I never think in those terms. I have had stylists over the years who try to see to it that I don't embarrass myself, but as far as me, I just dress however I feel comfortable — and I guess that's fashionable now, to be who you are. 
I've always said 'Look the way you want to, be the way you want to, you should be allowed to be who you are, look how you look,' but no, I don't consider myself a style icon. People are always telling me I should have my own line of clothes. I'd probably leave myself up for some crucifixion if I ever tried.
Has it ever crossed your mind to release your own clothing line?
DP: You know, I've given it some thought. I might if it went along with what I felt, like a backwoods collection. I've often thought about how it might have a cowgirl/country girl look. I've thought about doing a line of clothes called Dolly's Dailies and Nighties, things that you can wear in the day and at night that you could spruce up with little jackets and such. I do want to have a line of wigs and a line of makeup. So when I delve into that area, I very well might do some clothes.
Dolly, you absolutely must!
DP: Would you wear one of my dresses?
Do you even have to ask?
[Parton cackles]
Throughout your entire career you've been an outlier in terms of conformity. Where do you think you got your sense of idealistic beauty from?
DP: Well, I patterned my look — I say it's a joke but it's the the God honest truth — after the town tramp in my hometown. She wore bright lipstick and a lot of makeup and high-heeled shoes, and I just immediately felt that that was how I wanted to look. I make a joke about how I said, 'She's so pretty, and people said 'She's just trash,' and I said, 'Well, that's what I'm going to be when I grow up: Trash.' Well, I got my look from there.
I'm not a natural beauty. I've always felt so much more inside. So I tried to make positives out of negatives and dress the way I think is my personality. I took liberties, figuring if I was comfortable with me, others would be comfortable with me.
When did you realize that this outlook could greatly impact on the confidence of your fans and admirers?
DP: I felt that early on, when I first started making my own decisions, in the mid '70s when I was on my own, taking over my publishing company and my production company. I really started getting into the business end of things, deciding to open the theme park in '86. I'd say that in the early '80s is when I noticed the impact.
What has it been like watching your goddaughter Miley Cyrus' career? Do you see a lot of parallels to your own?
DP: I do — in some ways. Hers is on a bigger scale. I think that Miley is one of the most talented people I've ever known. That little thing, she writes, sings, plays guitar, great lyrics, great comedian, great timing, great little actress, host — she can really do it all. She had a real hard time trying to land on her feet trying to figure out that transition from being Hannah Montana to being Miley Cyrus, but she's all right. 
I never worry about her. If I didn't know how smart she was, I'd worry for her, but she knows exactly what she's doing. She's like my child. You know, you worry about her when things aren't right, but you just hope that they do the best they can and trust they'll be okay.
Will you two ever collaborate?
DP: Yes! We've talked about that. We've talked about doing a series or at least a movie. We've got a movie-of-the-week that we've been talking to some folks about. We'd definitely love to record together if we can ever get our schedules aligned. Our voices blend really good.
Coming up on the 50th anniversary since Hello, I'm Dolly, is there anything you can honestly say you haven't yet accomplished?
DP: There's lots of stuff. I want my own Broadway musical of my life, my story told in music. I'd love to even have a feature film, too. We might do a series version of [the 2015 made-for-TV movie] Coat of Many Colors called Life of Many Colors. I want to do a whole lot of things. I wake up every day with new dreams.
Last, and most importantly: What makes you smile?
DP: You. The fans. The fact that I've had the opportunity to watch my dreams come true. That I've been able to be successful at something I love to do. Even though I seem like I'm busy day in and day out, but it never seems like work to me because I love it. So that makes me smile, that I wake up every day loving my work.