In One Quote, Simone Biles Perfectly Summed Up Her Remarkable Olympic Legacy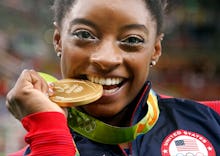 Shortly after winning the gold medal in the women's individual all-around competition at the Olympic Games on Thursday, American gymnast Simone Biles discussed her legacy.
"I've finally done it. It's so exciting," she said, according to Omnisport.
Then she addressed those who would measure her accomplishments against other, notably male Olympic legends.
"I'm not the next Usain Bolt or Michael Phelps. I'm the first Simone Biles," she reportedly said.
"I'm not the next Usain Bolt or Michael Phelps. I'm the first Simone Biles."
It's an important distinction for a young woman who is widely considered the best gymnast in the world. 
Her accomplishments — which include two Olympic gold medals and three consecutive individual all-around world championships — have cemented her as a unique talent in her own right, and in many ways, a pioneer.
Biles' victory on Thursday made her not just the fourth American gymnast in a row to win the individual all-around competition at the Olympics, but the second black American to do so.
The 19-year-old is also the most decorated black gymnast in history — and according to some, the best gymnast of all time.
"I would say yes," said women's gymnastics team coordinator Martha Károlyi, when asked if Biles was the greatest ever, according to USA Today.
That's high praise coming from arguably the most legendary gymnastics coach in history. Károlyi has appeared in 11 straight Olympics as either a coach or team coordinator, and coached Nadia Comaneci to her famous perfect "10" on the uneven bars at the 1976 Games.
Biles, in this sense, is inarguably in legendary company. But in terms of her own personal accomplishments, she's in a class of her own.