Simone Manuel Wins Olympic Gold in Stunning Upset Victory in 100-Meter Freestyle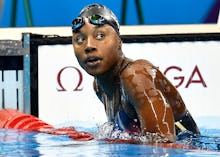 Simone Manuel became the first black woman to win an Olympic gold medal in an individual swimming event when she she pulled off a stunning upset victory in the women's 100-meter freestyle race Thursday in Rio de Janeiro.
The 20-year-old Texas native tied with Canada's Penny Oleksiak for first place, beating out Australian sisters Bronte and Cate Campbell, both of whom were expected to finish near the top.
Twitter users were quick to applaud Manuel's pioneering accomplishment:
Manuel was also part of the team that won silver in the 4x100-meter women's relay race earlier this week, making this gold her second Olympic medal. Here's to many more.