Chinese Olympic Swimmer Chen Xinyi Tests Positive for Banned Substance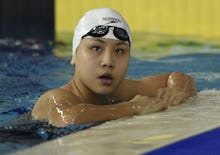 The Chinese Swimming Association says Olympic swimmer Chen Xinyi tested positive for a banned substance, the Associated Press reported, citing Chinese state news agency Xinhua. 
The substance is hydrochlorothiazide, a diuretic that helps the body eliminate excess salt and water, among the drug's other effects. Chen reportedly tested positive after Sunday's 100-meter butterfly event, where she placed fourth. 
The CSA says the 18-year-old swimmer — who was scheduled to compete in the 50-meter freestyle starting Friday — has asked the International Olympic Committee to test her "B" sample, Xinhua reported, according to the AP. 
"The CSA has taken this matter seriously and demanded full cooperation from Chen in the investigation," the swimming association said in a statement quoted by Xinhua, the AP reported.
How "B" testing works: If an Olympic athlete tests positive, she can ask for her second sample — known as her "B" — to be tested, according to a BBC article pegged to the 2012 Olympic Games in London.
After hearing what the athlete has to say, the IOC's disciplinary commission will decide if there's a violation. If the group determines a violation has occurred, "they will recommend a sanction, including being thrown out of the Olympic Games," according to the BBC. "Further sanctions — like a ban from the sport for years or months — are then down to the individual sports federations."
Doping at the 2016 Rio Olympics: Chen is the first swimmer at the Rio Olympics to fail a drug test, according to the AP — but she isn't alone. Bulgarian runner Silvia Danekova tested positive for a banned blood booster shortly after her July 26 arrival in Rio, according to the BBC. 
There are also seven Russian swimmers at the Rio games who were initially banned from competing after allegations emerged of a major state-sponsored doping cover-up in Russia. One of those swimmers is Yulia Efimova — target of U.S. swimmer Lilly King's infamous finger-wag. 
A spokeswoman for China's national anti-doping agency said she had no additional information on the status of Chen's case, the AP reported. 
"We have noticed media reports about the case," Li told the AP. "So far the anti-doping agency has yet to receive any official confirmation." The agency will "continue to monitor" the situation, she added.