Fiji Is Really, Really Excited About Winning Its First Olympic Gold Medal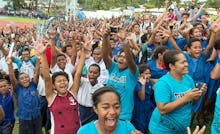 It seems nothing can match the how excited Fiji is about winning its first Olympic gold medal.
More than 4,000 people gathered in the ANZ Stadium in Fiji's capital, Suva, to watch the men's rugby sevens team face off against Great Britain in the Olympic gold medal match on Thursday. The gold medal rugby match "brought the nation of 900,000 people to a standstill," according to the Telegraph, with schools and business closing so residents could watch the match. 
When the team beat Great Britain 43-7, earning Fiji its first Olympic medal — and a gold one, at that. The country, as Mashable put it, lost it. 
Photos from ANZ Stadium show crowds cheering uproariously. 
Some spectators were moved to tears.
The big win triggered "wild celebrations" across the small Pacific country, which first competed in the Olympics in 1956. Phone carriers gave out free calls, and Fiji's national airline, Fiji Airways, announcing its only beer option for the day would be Fiji Gold, according to the Telegraph.
The government even declared Aug. 22 a national holiday in honor of the victory.
Meanwhile, on the field in Rio, Fiji's rugby players were moved by their win. 
Congratulations, Fiji!