Samora Pinderhughes calls for reappraisal of black life's value in 'Transformations Suite'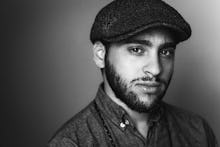 After we die, who controls our narrative? How can someone like Martin Luther King Jr., who preached for a radical transformation of society in the years before his death, find their legacy so simplified decades later? "Oh, let's just all be equal," as artist Samora Pinderhughes phrased that neutered message in a recent phone conversation.
"It's so white folks could look at it and say, look how far we've come," Pinderhughes answered, discussing the questions guiding his new project The Transformations Suite. "They're leaving off the last two years of his life where he talked about the things this piece is about, which is a literal restructuring of society."
Raised in San Francisco's Bay Area, long an incubator of black liberation artists and activists, Pinderhughes is a Juilliard-trained pianist and composer dedicated to using music to push for structural change. The Transformations Suite is a five-part tone poem, arranged over meticulously arranged big band jazz instrumentals, with aims to provide a motivational and emotional engine to push forward the mission of Black Lives Matter. The first piece of the project — "Momentum, Pt. 2" — premieres below.
"The impetus for the piece is — let's look at what are the things that are being left out of our history books," Pinderhughes said. "What are the pieces of these heroes' legacies that are being left out? And why are they being left out? Most of the reason is because they're a little too radical. They're not what people want to hear."
The project's instrumentation, which alternates through passages of lush piano and massive swells of percussion and strings, was composed to be "physically stirring," Pinderhughes explained. 
"To make people disturbed; to make people get up," he said. "Then the content of the piece hopefully will give them direction and help them find out to where to go." 
For that, he leans on poetry written and delivered by Jeremie Harris — who appears in Netflix's just-released hip-hop history drama The Get Down; Pinderhughes met Harris during his time at Juilliard. The lyrics are also augmented by contributions from Pinderhughes, Saul Williams and Tupac Shakur. They reflect the urgency of today's movements while nodding to heroes like Harry Belafonte, Nina Simone and Bob Marley, whom Pinderhughes has leaned on in the past.
"On this blistering August day, we stand face to face with our beloved country, as we have done so many times before, and demand: Your very fabric must be changed! You must be born again!" the lyrics to the "Momentum, Pt. 2" read. They help shed light on the project's deeper purpose, which is to inspire an almost spiritual transformation of the way that we interrelate to one another as human beings.
"If we're really going to create lasting change — and this is what the Transformations Suite is about — we can't just ask for one policy change," Pinderhughes said. "We have to have imagination. We have to really look at what it means to restructure our society to truly reflect what it means to be equitable and have justice. These are some much bigger conversations than just policy."
Listen to "Momentum, Pt. 2" from The Transformations Suite below. The album drops October 12, with the official release event taking place during the conference and concert for Black Male Re-Imagined, hosted by the Campaign for Black Male Achievement, happening on October 12 in Washington D.C.
Aug. 12, 2016, 11:36 a.m.: This story has been updated.