Are Peanut Allergies Curable? A New Study Says Immunotherapy Is the Answer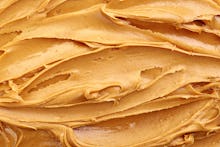 Doctors successfully cured babies and toddlers of their peanut allergies by feeding them small doses of peanuts, according to a study published Wednesday in the Journal for Allergy and Clinical Immunology.
The treatment, know as "oral immunotherapy," involves introducing small doses of peanuts (or any substance) into the subjects' diets and gradually increasing the dose. 
In a randomized, double-blind test, participants were split into two groups with respective goals of being able to consume 300 or 3,000 milligrams of peanuts per day. After the test was completed, subjects were prohibited from eating any peanuts for four weeks before attempting to eat the legume again.
The combined success rate of both groups being able to subsequently eat peanuts without evidence of an allergy was 78%. 
"This study provides critical evidence supporting the safety and effectiveness of peanut oral immunotherapy in treating young children newly diagnosed with peanut allergy," Dr. Marshall Plaut, the National Institute of Allergy and Infectious Diseases food allergy section chief, said, according to the Guardian.
Despite the therapy's success rate, it remains a controversial method. 
"The principle of enhancing oral tolerance to prevent or reduce food allergies has a lot of traction," Dr. Leo Galland, allergy specialist and co-author of The Allergy Solution, said in an interview. 
But safety, he said, is a concern in the medical community.
"[The consensus] is one of extreme caution because of the potential seriousness of peanut anaphylaxis, which causes numerous deaths per year in the U.S.," Galland noted. "It's just potentially very dangerous, so it will continue to be experimental for a long time."
And a number of doctors have publicly described OIT as unsafe — some of whom argue it's too risky to even try.
"We absolutely don't do OIT for treatment," Dr. Robert Wood, the Director of Pediatric Allergy and Immunology at Johns Hopkins Medicine, told the Wall Street Journal.  "In my mind, doing so is pushing the envelope beyond the appropriate level of safety," Wood added. 
Other such studies have been conducted before and saw similarly successful results. But, before being able to assess the longterm effects of peanut immunotherapy, the method is likely to garner a number of skeptics.