Rae'Lynn Thomas, Ohio Transgender Woman, Killed by Mom's Ex Who Called Her "Satan"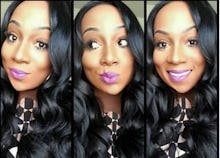 Columbus, Ohio police are investigating the death of 28-year-old Rae'Lynn Thomas, who was shot and killed by her mother's ex-boyfriend, who lived with her family at the time, according to WBNS. 
Thomas' mother, Renee Thomas, shared her daughter's final words with local news: 
"Mom, please please don't leave me. Mom, I'm dying," she said. "Mom, I love you. Tell my sisters and my brother I love them. Tell my family I love them. Mom, I'm dying, I'm dying, please don't leave me." 
Renee Thomas said her daughter transitioned 10 years ago. Rae'Lynn's aunt, Shannon Thomas, said Rae'Lynn was a performer who was dedicated to fashion. 
According to Renee Thomas, her ex James Allen Byrd was transphobic and often called Rae'Lynn "the devil." Renee Thomas says Byrd repeated the word before shooting Rae'Lynn in their Columbus home. 
"He was in the bedroom and he just came around the corner and shot my [daughter]," she said. After two shots, Byrd grabbed Rae'Lynn and began beating her.
"He took a light away from all of us that we can't get back," Shannon Thomas said to WBNS. "And he needs to pay. He needs to pay." 
Aside from memories, the family said they have a recording of Rae'Lynn singing Boyz II Men's "It's So Hard to Say Goodbye to Yesterday," from four months ago.
At least five transgender women have been killed in the past two months. On Wednesday, Mic reported that 36-year-old Erykah Tijerina was killed in El Paso, Texas. In July, three transgender women were killed in the United States: Washington, D.C.'s  Deeniquia Dodds, Mississippi's Dee Whigham and Cleveland's Skye Mockabee. Mockabee and Thomas's death happened within weeks of each other in the same state — Ohio. 
Local Ohio community organizers have expressed their condolences and plan to take action. 
"Our hearts, minds and condolences are with the family, friends, and community of Rae'Lynn in this time of tragedy," Aaron Eckhardt, training and technical assistance director of the Buckeye Region Anti-Violence Organization, said in a statement. 
"We must continue to come together as a broad community of support to say hate has no home in Ohio, hate has no home anywhere," Echardt added. 
An official from New York City's Anti-Violence Project said this is the 18th confirmed killing of a transgender or gender nonconforming person in 2016. 
Of the 24 reported hate violence homicides of LGBTQ people in 2015, 67% were transgender or gender nonconforming, according to the NCAVP's annual report on hate violence. Thirteen of the 24 — 54% of those killed — were trans women of color.
Both Rae'Lynn's mother and aunt want to see Byrd spend his life in jail.
"I want to see him go to jail forever," Shannon Thomas said.
"Life in prison. Spend your life in prison. That's what you do," Renee Thomas said. "I don't want you to spend your life with your family."
Byrd, 53, is being held on a $2 million bond and faces a murder charge for Rae'Lynn's death, which is not being investigated as a hate crime.