Bernie Sanders' New Summer Home Cost Twice What Warren Buffett Paid for His Actual House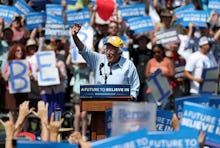 Pop quiz: Who has nicer digs, billionaire Warren Buffett or self-described socialist Senator Bernie Sanders?
When word got out Monday that Sanders had bought a new summer house for $575,000, his detractors predictably had some harsh words. After all, this was the class warrior's third home — with lakefront access, to boot.
Michael Johns, speechwriter for former President George H. W. Bush, summed up some of the backlash in the tweet below.
Do the haters have a point?
On one hand, photos of Sanders' new "waterfront camp" don't exactly scream excess: The home actually looks reasonably humble.
Then again, Sanders spent more on the scenic vacation pad than billionaire Warren Buffett paid for his full-time residence in Omaha, Nebraska.
Buffett, whose success in the stock market is so vast he is often referred to as "the oracle of Omaha," still lives in the modest five-bedroom stucco house he bought back in 1958.
At the time Buffett spent $31,500, or about $262,000 in 2016 dollars — less than half what Sanders paid.
Now, by virtue of home value appreciation — as well as Buffett's fame — his primary home is likely worth a bit more than its original selling price today. People famously pay a premium to live near Buffett and, based on his property taxes, his residence today could be worth about $900,000.
Buffett has also dipped at least a toe into the luxury home waters: He previously owned a summer house in Orange County, California, worth about $5 million, which he has since sold.
But the long-time Omaha resident has repeated in many interviews that he takes little joy in collecting vacation homes. As Today reported, Buffett once said, "I don't want to manage 10 houses and I don't want somebody else doing it for me and I don't know why the hell I'd be happier," in a chat with the BBC.
It is at least a little ironic that Buffett, a capitalist worth $66 billion, could teach Sanders a thing or two about living modestly.