These Photos Show Why Simone Biles' and Simone Manuel's Wins Truly Matter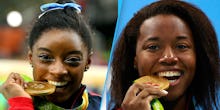 #TeamUSA has a lot to be excited about after Thursday's showing at the Olympic Games in Rio de Janeiro. Simone Biles took home the gold in the individual all-around gymnastics competition. And Simone Manuel became the first black woman to win a gold medal in an individual swimming event. 
But a special group of people are truly celebrating their epic wins in the most adorable way ever: black children.
On the left, a young gymnast balances herself on what looks to be a broken broom handle as Biles watches from the television screen.
On the bottom right, there's Layla, from Fort Worth, Texas, who proudly stands in front of her television holding the No. 1 in the air. Her mother, Nett, posted the picture on Twitter after Manuel's historic win, and it has since gone viral.
These images illustrates just how much representation matters when it comes to seeing people who look like you make monumental accomplishments. 
From the looks of this video that Layla's mom posted on Twitter on Friday morning, she's well on her way to greatness.
Perhaps we've just been introduced to two members of #TeamUSA in the 2032 Olympics.