Mariah Carey and James Packer Have His & Hers Yachts, But Your Relationship Is Cool, Too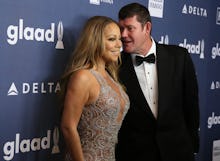 So you're engaged. Awesome! This means you have exactly one thing in common with legendary chanteuse Mariah Carey.
This week, Entertainment Tonight blessed the world with news that Carey and her billionaire fiancé James Packer have a pair of his-and-hers yachts. Carey's is called the Capri. Packer's is called the Arctic P. They are currently anchored together on a vast and serene waterscape off the coast of Italy. 
But congratulations to you and your fiancé for your recent purchase of a raised ranch in the suburbs!
"It's important to have his-and-hers everything," Carey told ET in an on-yacht (her yacht) interview. A selection of snapshots of the interior of the Capri serves some major first-class-of-the-Titanic realness.
ET was not granted interior access to the Arctic P — presumably because Packer is "a private businessman and there are a lot of things with his companies that I just can't talk about," as Carey said in a recent Complex interview — but it looks chill from the outside. It costs $340,000 a week, probably because there is a very large waterslide involved.
But enough about the Queen of the World and her billionaire fiancé. Congratulations to you again on your impending nuptials and new domicile. Maybe if you save up enough money you can do a renovation on the master bath and get that his-and-hers double vanity you've always wanted!