At 13, Simone Manuel asked black US Olympic swimmer Maritza Correia McClendon for advice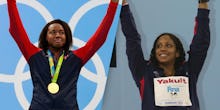 For years, Olympic gold medalist Simone Manuel has looked to Maritza Correia McClendon for inspiration. 
McClendon, the first American black woman to qualify and medal for the U.S. Olympic Team, received an email from a young and eager Manuel asking for advice.
"The first email I got from Simone was her telling me she loves swimming and she's my biggest fan," McClendon told Mic in an email interview. "We began just emailing each other about swimming and life. It was a conversation between two athletes."
It all started when Manuel's coach Allison Beebe, head coach of First Colony Swim Team, met McClendon at a coaching convention in 2009. Beebe told her that she had one swimmer in her Sugarland, Texas, swim club who was the Olympian's biggest fan. A few days after the convention, the Olympic medalist received an email from Manuel.
"Thankfully, it began a connection in which I would get to watch her transform into the powerhouse she is today," McClendon said. "I saw it in her eyes after the U.S. Olympic Trials in 2012. Like she was ready for the next four years right out the gate. I'm beyond proud of Simone and her perseverance, her determination, and the sheer desire to win Olympic gold."
At this year's Games, Manuel and Lia Neal, a teammate at Stanford, made a historic milestone as the first black swimmers to compete on the same U.S. Olympic team. McClendon was at the Olympic trials in Omaha, Nebraska, to award them in the medal ceremony, and she said that moment was special and remarkable.
"It was twice as special to see them make it together," she said. "They are the symbol of the changing tides to the next generation of aspiring young athletes of color that we can do it and we are fast."
But unlike these dynamic swimmers, McClendon didn't really have any female black swimmers to look up to in swimming.
"When I was swimming I didn't have anyone who looked like me to aspire to," Correia added. "Instead, I looked to become an Olympic swimmer by watching Amy Van Dyken win four gold medals at the Atlanta '96 games. The dream was to become an Olympian; the icing on the cake was becoming a trailblazer." 
In 2002, McClendon ended up breaking Van Dyken's American record in the 50-yard freestyle at the NCAA Championships in Austin, Texas. Clocking in at 21.69, beating Van Dyken's time of 21.77 in 1994, Correia became the first black woman to hold a U.S. record.
Now, McClendon says, Manuel will inspire a whole new generation of young black men and women to become competitive swimmers, and hopefully, make bigger waves than legends in the past.
"I guarantee there will be a new wave of black swimmers in the pool now because of Simone's epic swim," McClendon said. "She has now climbed the highest platform for the world to see, and for the next generation to aspire to new heights."