Bollywood Actor Shah Rukh Khan Has Been Detained in Airports 3 Times in 7 Years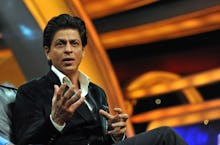 On Thursday, Bollywood actor Shah Rukh Khan was detained at Los Angeles International Airport — a common experience for Muslims who dare ask a flight attendant for a soda or read a book about Syrian art. 
Khan knew the drill: it marked his third time being detained at an airport in the last seven years, according to the Guardian.
"I fully understand and respect security with the way the world is," the actor wrote in a tweet about the incident. "But to be detained at U.S. immigration every damn time really, really sucks."
The Guardian reported that Khan was first detained in 2009 at Newark Airport for over two hours by U.S. immigration officials. But even after the backlash from fans and fellow actors over the wrongful detention, Khan was taken into custody again in 2012, again in New York. 
At the time, Khan reportedly said in a speech at Yale University, "Whenever I start feeling arrogant about myself, I always take a trip to America. The immigration guys kick the star out of stardom."
Following Khan's most recent run-in with immigration officials, Nisha Biswal, the assistant secretary of state for south and central Asia, apologized for the hassle, saying even diplomats like herself get stopped on occasion.
U.S. Ambassador to India Rich Verma also chimed in with his condolences, promising to ensure it wouldn't happen again. 
Khan, though, had a sense of humor about the incident.
The actor tweeted, "The brighter side is while waiting caught some really nice Pokémons."