Want to Stream Music Offline? These Apps Have You Covered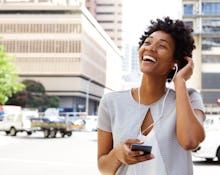 Music is life, and it's hard to live when you have no Wi-Fi or cell phone reception. Thankfully, there are plenty of apps that let you listen to music while completely offline.
Generally, in order to enjoy your music you'll have to pay for a subscription service and download the music you want to hear later while you have service. 
Whether you're on a plane, the subway or just unplugged for a while, these apps should keep you grooving.
Spotify Premium
If you subscribe to Spotify Premium, you can download any of the app's more than 30 million songs and play them whenever you want, right from your phone. 
Spotify offers a 30-day free trial and costs $9.99 per month after, though the company offers discounts for family plans and students. 
Amazon Prime 
You may not realize this, but if you're an Amazon Prime subscriber, you have access to over 1 million songs. You can download songs on Amazon Prime Music for playback later, just like you can do on Spotify. 
Amazon Prime costs $99 per year, and subscribers get faster, often free shipping, access to the Kindle Owners' Lending Library, unlimited streaming of movies and TV shows through Prime Video, photo storage on Amazon's cloud and more. 
Amazon also offers a 30-day free trial and discounts for students. 
Apple Music
Apple Music (which, despite its name, is available for both iOS and Android) lets you pick which songs you want to listen to later, when you're offline. 
Apple Music offers a three-month free trial. After that, it costs $9.99 per month or $14.99 per month for a family subscription that up to six people can use at once. Students can get Apple Music for a discounted rate of $4.99 per month. 
Groove 
Groove is Microsoft's music streaming service. It has more than 40 million songs and lets you download whatever songs you like for offline listening. Though it's made by Microsoft, it works on Android, Windows Phone and iOS. 
Groove offers a 30-day free trial and costs $9.99 per month for premium access.