Simone Biles' Olympic Diet Includes a Lot of Pizza, Making Her a True American Treasure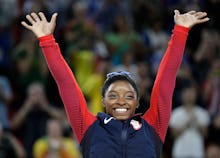 If Simone Biles, dropper of legendary quotes and winner of gold medals, wasn't already likable enough, just wait until you hear about her post meet celebration ritual. The superstar U.S. gymnast doesn't indulge in fancy foods like lobster and caviar, but instead goes for pepperoni pizza.
Biles told to ABC News that she has to eat pizza after every competition regardless if she wins or not. "It doesn't even matter if I don't win a self-gold, she said. "After every meet I have pizza. Pepperoni pizza." After back flipping her way to the medal podium multiple times this year, she definitely deserves some extra pepperoni on her pie. 
Fellow Team USA gymnast Laurie Hernandez also has an eating agenda to celebrate her team's gold medal win. This week, Hernandez's brother posted a photo of the athlete with a caption bursting with pride, promising to take his sibling to Wawa, the convenience store chain with a devoted following, as soon as she lands back in U.S.
_____________________________________________
Read more: 
Carbs are a major part of Team USA's diet. Cupping-enthusiast Michael Phelps celebrated his 23rd gold medal win with a bucket of pasta. According to Fox News, Phelps forced downed a pound of spaghetti to replenish his body after crushing his competitors in the pool. Whether carbs are a desire or carbs are a necessity, it seems like they're Americans gold-standard fuel preference.