'Big Brother 18': Will Paulie Be the Next Player Evicted From the House?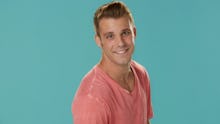 Thursday afternoon, anger toward Big Brother 18's Paulie Calafiore seemed to reach its peak. Fans watching the live feeds saw a very different portrait of the contestant than viewers of the TV show saw on CBS' thrice-weekly broadcasts.
Paulie's choice of language when talking to and about female contestants didn't sit well with viewers of the live feeds. He talked about wanting to "bury" Natalie Negrotti for revealing his intention to eliminate former love interest Zakiyah Everette, calling Natalie as "fake" as her breasts. Meanwhile, the broadcast neglected to mention why Paulie and Natalie were fighting.
Yet even after hitting what seemed to be peak frustration with Paulie, the Big Brother fanbase doubled down Thursday night after the contestant continued to say sexist things about fellow female houseguests. Twitter was awash in Paulie vitriol.
But for Paulie agnostics, Thursday night's show was a beacon of hope. Somehow, Michelle Meyer survived two nominations for eviction in a row, despite dropping veritable truth bombs on the other houseguests, including Paulie and returning Big Brother player Nicole Franzel.
After this shakeup, fans watching the live feeds learned Victor Arroyo won the Head of Household competition for the second time in two weeks. Amidst the chaos, Paulie's former ally Paul Abrahamian came up with a plan to betray Paulie and get either him or fellow former alliance member Corey Brooks ousted this week.
This news thrilled fans, who are especially delighted that Paulie is so far clueless that Natalie will presumably not be going on the block.
Will Paulie actually be ousted? That's tougher to call. He has won the Power of Veto three times this season, meaning he's a real threat to win the Veto this week and take himself off the chopping block. If that does happen, watch out: Chaos will reign in the Big Brother house. But if the other houseguests succeed in evicting him, that will make Big Brother 18 a whole new ball game.