3 Facts You Need to Know About Usain Bolt, the World's Fastest Man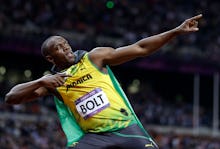 "The World's Fastest Man" is a title that feels almost metaphorical, a title so monolithic it should be purely symbolic. Instead, it belongs to Usain Bolt, the 29-year-old sprinter from Jamaica who seems to defy the laws of physics and human ability every time his Pumas hit the track. 
At the 2016 Rio Olympics, Bolt will compete in the men's 4x100 meter relay, 200 meter and 100 meter. To give an idea of how much of a favorite Bolt is in his events: He swept all three events in the past two Olympic Games, in 2008 and 2012, and holds the world records for both individual events and, as part of Team Jamaica, the relay.
But, of course, there's more to Bolt than his superhuman speed. Here are some fast facts about the Olympic champion (that look slow by comparison).
1. As a boy, he wanted to be a cricketer — not a runner.
Bolt told reporters that when he was younger, his father gave him a tough choice to make: cricket or track?
"My dad said because of the system in Jamaica, it would be better to take up athletics," Bolt said, according to Agence France-Presse. "He said, 'You just have to run fast in athletics while it's tougher to get into the national [cricket] team.'"
But Bolt can still hold his own on the cricket field, as he proved in 2014 when he lifted his team to a win during an exhibition match in India.
2. At 15 he became the youngest world-junior gold medalist ever.
After winning his first high school championships medal in 2001, Bolt went on to the 2002 World Junior Championships, where, at 15, he became the youngest world-junior gold medalist ever.
After his historic win, Bolt earned the nickname "Lightning Bolt," a moniker that has stuck with him throughout his rise to Olympic excellence. The nickname also inspired the signature pose Bolt strikes after a victory.
3. Bolt is fellow Olympic sprinter Justin Gatlin's biggest rival, but greatest motivator.
American runner Gatlin won gold in the 100 meter at the 2004 Athens Olympics, before taking a four-year hiatus for a doping ban. In the 2008 Beijing Olympics, Gatlin saw Bolt beat his 100-meter time, clocking in at 9.69 seconds, and set three world records.
But according to NBC Olympics, the two remain good friends, teasing each other and going out together to parties: Bolt calls 34-year-old Gatlin "old man," while Gatlin, referring to Bolt's 30th birthday on Aug. 21, calls him "middle-aged man." 
"We are able to relax and have fun outside of track and field," Gatlin told NBC Olympics. "But when we step on the track, we want to beat each other."
He added Bolt is the "kind of guy you want to set your sights on and go after."