Live Cam Girls Say Virtual Reality Is the Future of Porn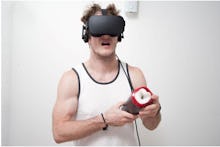 The digital get down is trying really hard to be as close to the real deal as possible — adult entertainment companies are now encouraging their viewers to strap on, plug in and participate. And cam girls say that the incorporation of virtual reality headsets and teledildonics is probably the future of porn, based on their personal experiences. 
CamSoda is among the adult entertainment companies making masturbation more metal — its webcam platform now lets you, as of this month, livestream a cam girl in VR while synced up to a male or female smart sex toy. 
"Since CamSoda began broadcasting its live shows in virtual reality, I've noticed I receive a much more positive response from users," CamSoda model Lexy Bandera said in an email. "The feedback we have been receiving about them has been overwhelmingly positive, and fans haven't shied from voicing their approval."
Another female talent, Charley Hart, who is also participating in CamSoda's virtual reality content, echoes Bandera's sentiment that users behave differently in VR than in non-VR content, saying in an email that fans "seem to be more excited (literally)."
"We're able to connect with them on a more intimate level," Hart said. "They seem much more upbeat and in awe of the capabilities of virtual reality. It's quite a change for most users, who have become used to normal webcam shows."
It's unsurprising viewers feel a more intimate connection — when you slip on the VR headset, you're essentially eliminating the screen as a barrier, bringing a model into your surroundings in real-time. With teledildonics, you're also eliminating the need for your right hand. Bandera points out that this particular ambiance also emboldens users. 
"Now that users feel as though they are actually in the room with me, they make some ... interesting ... requests, most of which I'm happy to accommodate," she said. 
Hart also said that user requests are "more creative."
Both Bandera and Hart believe this to be the future of getting off. 
"They can interact with me like never before and actually feel like they are a protagonist rather than just a fan watching from behind a computer," Hart said. "I'm able to feed off of their excitement and put on a better show."
"While broadcasting from a webcam is enjoyable, being broadcast in virtual reality is the future, in my opinion," Bandera said. "I think once fans get a taste of the experience and the intimate interaction, they won't want to go back."
Lock your doors, kids. You can't hear knocking in the void.