What to Know About Justin Gatlin, Team USA's Best Bet to Beat Usain Bolt at the Olympics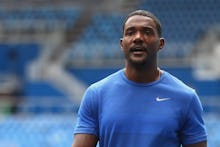 There are some Olympic superstars who seem virtually unbeatable, and Jamaican sprinter Usain Bolt is one of them — but 34-year-old American Justin Gatlin may be Team USA's only hope at snatching the gold medal from the reigning Olympic and World champion. Here's what you need to know about Gatlin.
Gatlin was born in Florida and attended college at the University of Tennessee. He currently resides in Orlando.
The 2016 Summer Olympic Games in Rio are just a notch in the runner's Olympic career. He won gold at the 2004 games in Athens in the men's 100 meter. At the 2012 Summer Games in London, Gatlin earned the bronze medal in the same event. In Rio, he is scheduled to compete in the men's 200 meter, 100 meter and 4x100 meter relay (and on Saturday, placed first in the men's 100 meter semifinals).
Gatlin has had his share of scandal: He twice failed doping tests, including in 2006 when he tested positive for "excessive testosterone." Gatlin was banned from his sport for four years.
He returned to competition after he was reinstated, and now he is, according to the AP, "the biggest threat to Usain Bolt in the 100 meter final on Sunday." But the two sprinters actually have a pretty friendly rivalry.
"We are able to relax and have fun outside of track and field," Gatlin told NBC. "But when we step on the track, we want to beat each other."