Chicago Gun Violence Just Hit a Historic High: 99 People Were Shot in the Last 7 Days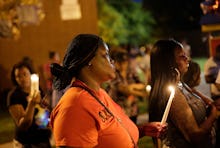 Violence in Chicago has climbed to stratospheric levels not seen since the 1990's, with the city seeing 99 gunshot victims in the past week alone.
According to the Chicago Tribune, 99 people were shot in the city in the seven-day period between the afternoon of Aug. 5 and the morning of Aug. 11. Of those victims, 24 died from their injuries.
Monday alone saw nine fatalities, marking a particularly bloody day for the city and its deadliest 24-hour period in 13 years, the Tribune reported.
The number of shooting victims in Chicago has climbed to 2,514 in 2016, up nearly 46% from the 1,725 documented at this time last year.
Chicago police have ascribed the upward trend in shootings to a combination of lax gun laws and feuding gang factions. However, according to a January report from Al Jazeera America, the onus for those lax gun laws might not be entirely on Chicago.
In nearby Indiana, straightforward gun laws require mandatory background checks on those interested in purchasing guns from standalone shops. But because of loopholes at gun shows, where sellers aren't required to perform background checks, interested buyers can scoop up firearms on the fly.
Sarah Emmons, a researcher at the University of Chicago's Chicago Crime Lab, told Al Jazeera that the link between the city's disproportionate amount of gun violence and its short distance from Indiana's gun shows is clear.
"You can be in the city of Chicago and be closer to a gun show in Indiana than you are to Downtown," she said. "Having such dramatically different regulations in such close proximity makes it really, really easy for folks [to bring illegal guns into Chicago]."