Out Gay Olympian Amini Fonua Eviscerates Nico Hines' Homophobic Grindr Article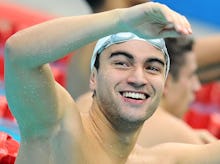 The internet went into a collective uproar on Thursday over the publication of Daily Beast London editor Nico Hines' homophobic and life-threatening article about using Grindr at the 2016 Olympic Summer Games in Rio de Janeiro.
While the internet had no problem calling out Hines, very few athletes — gay or straight — have made any statements about the article. One exception is out gay Tongan athlete Amini Fonua, who slammed Hines in a series of tweets on Thursday afternoon. 
"As an out gay athlete from a country that is still very homophobic, The Daily Beast ought to be ashamed," the swimmer wrote. "Nico Hines, you fucking disgust me." 
Shortly after the article's publication, the Daily Beast appended it with an editor's note. On Thursday evening, editors removed the post completely and replaced it with a longer editor's note.