'Shoe Dog,' Nike Founder Phil Knight's Memoir, Is a Blueprint for Motivation and Success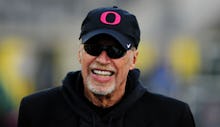 By modern streetwear standards, any hypebeast or fashionista will tell you that Nike is king. You can't walk around any city without seeing a swoosh on a pair of Dunks, Air Force 1s, or Cortezes. It's a testament to Nike's core mission: to use technology and design to create the best sportswear for everyday athletes.
Shoe Dog, the autobiographical story of Nike's origins by its founder and former CEO, Phil Knight, explains why Nike inspires such fandom. Most fans are diehard loyalists; you'd have to pry their shoes away from them before they would give up their Nikes. For the brand, the key to success was redefining the footwear industry to move forward — and that it did.
Knight's personal story was focused, but it was also littered with obstacles. He was in a unique position as an undergraduate: He ran track at the University of Oregon, and had one of the best coaches in the U.S., Bill Bowerman. Bowerman would constantly use Knight as a guinea pig for shoe experiments to test new ways in which lighter footwear could help runners go faster. They'd try different leathers for shoe uppers, tinker with compositions of foam for lighter soles, and even using kitchen tools to make sole patterns that gripped better. It was this kind of experimentation and innovation that excited Knight.
A few years later, in a class he took at Stanford Business School, Knight had to think up a viable business plan. The idea, though simple, was innovative at the time: Use all the learnings from the booming German footwear industry to market athletic shoes designed and manufactured in Japan. His thesis was titled, "Can Japanese Sports Shoes Do to German Sports Shoes What Japanese Cameras Did to German Cameras?" 
In 2016, the plan sounds simple enough, but at the time it was wildly original — not to mention highly controversial in the shoe world.
So when Knight finally decided to turn his college idea into a real-world operation, he used his track background to his advantage. He partnered with Bowerman to start a new company, with the goal of making technology and design a focus of the brand. When the duo launched Blue Ribbon Sports in the early 1960s, the sportswear world was vastly different from today's. Adidas and Puma ruled running and soccer; Converse was the king of basketball. 
Knight knew he could do better — he knew there was room for innovation. Even though it might have seemed an impossible task, Knight was willing to go up against the big guys.
The business started by importing Onitsuka Tigers shoes, eventually leading Blue Ribbon to become the exclusive distributor of their running sneakers on the west coast. But Knight's relationship with Onitsuka was tumultuous and filled with uncertainty; for the seven years the two were in business, communication was poor and manufacturing was inconsistent. Phil knew that if his company were to succeed, he had to meet his and Bowerman's own high standards for footwear.
Shoe Dog largely chronicles the next decade of Knight's journey to build up what is now Nike. He delves into the idea of creating a memorable brand with a universally recognizable visual identity. The end result is what the world knows as the Swoosh, and its most fascinating attribute is not that it's recognizable by people all over the globe, it's that Knight paid $35 for it.
The reason Shoe Dog is so compelling is in how Knight frames his own story as one to be replicated. It's a blueprint not just for success, but for motivation. Shoe Dog illustrates the unlimited amount of hurdles one might run into while trying to reach a major goal. It's Knight's account of seeing a vision through against all odds. 
Shoe Dog isn't, however, a book about shoes or basketball or Michael Jordan. It's a book about greatness and fulfilling dreams — and what to do if you think you have the next big idea.