New Swing State Polls Are Absolutely Devastating for Donald Trump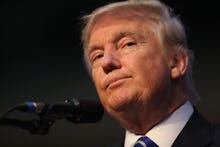 Hillary Clinton is walloping Donald Trump in key battleground states likely to tip the 2016 election, leaving the Republican presidential nominee with a massive deficit to erase less than 90 days before the election.
The NBC News/Wall Street Journal/Marist survey sampled voters in Virginia, North Carolina, Colorado and Florida. In each state, the size of Clinton's lead was larger than the survey's margin of error.
In Virginia — a state that eluded Democrats for four decades before President Barack Obama won it in 2008 and 2012 — Clinton looks likely to continue her party's winning streak. She leads Trump 46% to 33% in a head-to-head match-up in the Old Dominion State, which her running mate, Tim Kaine, is the junior U.S. senator.
Just south, Clinton has opened up a substantial lead in North Carolina, where she bests Trump 48% to 39%. Obama narrowly won the state in 2008 and narrowly lost it four years later. Should Clinton notch a victory there, Trump's path to the White House is all but closed.
Meanwhile, Clinton is burying Trump 46% to 32% in Colorado, and the former secretary of state boasted a 44% to 39% lead in Florida.
The polls follow a brutal stretch for Trump's campaign, which has been embroiled in controversies over the GOP nominee's attacks on the parents of a Muslim-American war veteran and his suggestion that "Second Amendment people" could thwart Clinton's Supreme Court appointments.
In recent weeks, Clinton has built such an advantage over Trump that, as of Thursday, she could still win the presidency even if she lost every swing state where she led by less than three percentage points in the RealClearPolitics polling average.
Friday's polls suggest Clinton's advantage may actually be growing, however. In an unusually frank acknowledgement that he could lose the election, Trump said Thursday that his campaign needed "help" in pivotal states like Ohio and even faced a "tremendous problem" in Utah, normally a solid GOP state but a place where his crude image sits poorly with Mormon voters.
"At the end, it's either going to work or I'm going to, you know, I'm going to have a very, very nice long vacation," Trump said in Florida.